COVID-19: What to Know
Dear Valley Medical Center Children's Therapy Families,
We hope that you are staying safe and taking care during this difficult time. We miss seeing our patients and families in the clinic and look forward to seeing you again when it's safe for us to reopen fully.
We would like to share our plans with you, as well as resources that we have gathered to support you while therapy isn't in session.
Attached is Children's Therapy, Patient Visitor Advisory during Covid-19 response.
Please read on how we are taking extra steps to protect our staff, patient and community.
COVID-19 Vaccine
This document contains the pre-screening questions asked before getting the vaccine and the recommendations depending on your answer. For that document please. Valley Medical center also has a future roll out plan for the vaccination, for more information
Children's Therapy Plans
June 3rd Update:
Our clinic is now fully open and we are so excited to be back to working with our families! We continue to offer a hybrid model of teletherapy visits over video and in-person visits in the clinic. The decision to come to the clinic or receive therapy over video teletherapy is currently being made between the therapist and the patient's family, and depends on the needs and abilities of your child.
Reminder calls are not going out right now, so put your appointments in your calendar to remind you of your day and time. We hope to have reminder calls functional again soon.
Some of our therapists who have smaller caseloads will not be coming back until at least the fall. If you saw one of these therapists and have not been contacted yet, please give our schedulers a call at 425-690-3513 to see if there are openings on another therapist's schedules. If you are on the waiting list you can also call to see if there are any openings to fit your schedule.
We continue to follow the below guidelines:
No more than one adult accompanying the child and no siblings. If parent does not join the session, they can wait in their car


Adult and therapist wear a mask at all times. Child wears a mask if they can tolerate it. Please bring your own masks if available. We can provide a child sized cloth mask but would ask that you wash it and bring it back each week


Patient and family stay in one room and some things are closed, including the ball pit, sand table, and swings
Please reach out with any questions to 425-690-3513 or email Barbara_bryant@valleymed.org
Home Activities
Read a picture book together – without reading the words! Read a book and tell the story by describing what you see in the pictures instead of reading the words. Pause frequently to let your child look at, point to, or talk about pictures. For children who are using few to no words, use the sentence "I see …." to describe what you see, like "I see a big yellow fish!" For children who are speaking in sentences, ask questions about the story, such as "What do you think the bear is going to do next?" This activity is called "dialogic reading" because it helps your child to engage in a dialogue, and it's a favorite activity for many teachers and speech therapists. If you don't have books at home, use a phone or tablet to check out free e-books at PBSkids.org.
Practice social skills using family playtime or digital communication. Games like tag, chase, tickles, peek-boo, and "flying through the air" are all social games that can be used to promote your young child's social communication skills. Consider using the R.O.C.K. strategy included in this handout.
For older children, have your child stay in contact with family members or friends from school to share their personal experiences at home. Have your child generate a list of questions to ask their friend or family member to learn about what they are doing to stay busy at home. Additionally, have scheduled mealtimes together and practice sharing the highs or lows of your day.
Create your own sensory bin. Sensory bins are a great activity for the development of various senses, as well as imaginative play skills! If your child likes to touch everything or shows some avoidance to different textures, sensory bins can be a great way to support tactile exploration and fulfill your child's sensory needs. For more information and tips on how to build your own sensory bin(s), check out this site for details.
Enjoy some family exercise time together. Running, jumping, climbing, and crashing can be difficult and often dangerous for kids while stuck inside the house, but movement and physical play is essential for development and regulation. There are limitless opportunities for kids (small and big) to get the movement they need in a safe way while indoors. Some ideas include:
Make an obstacle course in the living or bedroom using furniture, pillows, blankets, and toys
Make a scavenger hunt to look for items around the home or play hide-and-seek
Play classic favorites like "Simon Says," "Head Shoulders, Knees, and Toes," and "Hokey Pokey."
Sign up for a free account at Go Noodle for hours of video-guided physical activities for kids of all ages.
For more fun physical indoor play ideas, look at these links: indoor gross motor activities and ways to keep kids active indoors.
Practice ways to ease feelings of stress and build self-awareness. The recent events regarding COVID-19 have added feelings of stress and uncertainty to all of our lives, and impact our children as well. Practicing healthy and safe methods to relieve stress together can benefit the emotional, cognitive, and physical well-being of your entire family. Activities such as animal pose yoga can be done along with your children. For instance, standing on one leg can become "flamingo". Try counting together and holding the pose for 10 sections. This is a short kid-friendly video about yoga poses: or check out more kid-friendly poses at Kids Yoga Stories or Preschool Inspirations. Mindfulness practice can also support self-awareness and provide structured breaks for people of all ages. Mindfulschools.org is offering free online mindfulness videos (live and on-demand) to support guided practice.
The Pacific Science Center: They have launched "Curiosity at Home", to engage kids who are home. Curiosity doesn't stop and now you can participate in live science experiments and create your own experiments by following their videos. For more science at home activities check out their website by clicking here.
Virtual Art Therapy: Occupational Therapist Loren, shares how you can have fun and build skills with this art activity.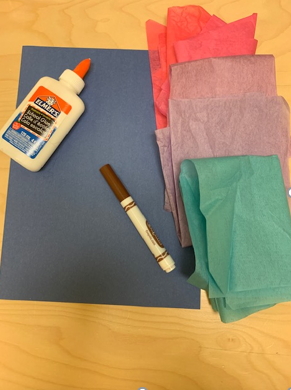 For more information on the art activity click here.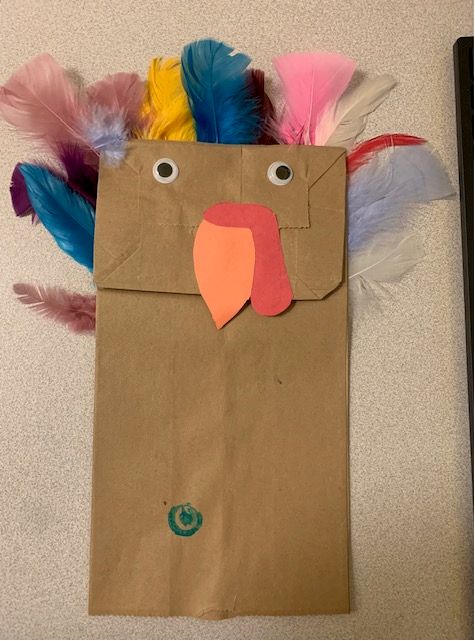 Here is a fun Thanksgiving art activity you can make at home with minimal supplies. You will need the following supplies; a brown paper bag, feathers, googly eyes, red and orange construct paper, scissors and glue. From Monday (11/23) through Wednesday (11/25), Children's Therapy will be giving away brown paper bags with those supplies included, with the exception of glue and scissors. Feel free to stop by and grab the turkey craft kit!
Here is a link showing you how to complete the art activity. Happy Thanksgiving!