Policies, Consent Forms & Medical Records

For New Patients
Attached is Children's Therapy, Patient Visitor Advisory during Covid-19 response. Please read on how we are taking extra steps to protect our staff, patient and community.
Updated Prescription Pad and Referral for Care
Please click here for our updated prescription pad and referral for care.
View Your Medical Record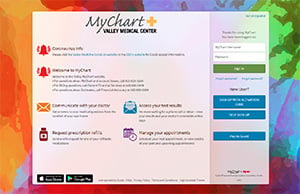 The easiest way to review your medical record is through MyChart, VMC's secure, online patient portal. It's available 24 hours per day, 7 days per week. MyChart also offers several time-saving and convenient benefits:
Message your doctor
Request prescription refills
Request appointments
View lab and test results
Your VMC clinic staff can sign you up for a MyChart account during your next visit, or get started now and request access. You'll receive an access code in the mail with instructions on how to login to MyChart.
**Note: If you have a MyChart account with another healthcare organization, that is separate and different from a MyChart account with Valley Medical Center. Only information related to visits that you have had with Valley Medical Center providers will appear in your Valley Medical Center MyChart account.
Parents or guardians may also request Proxy Access to view your child or ward's medical record in MyChart, or give a family member or other authorized individual access to your own MyChart account. This permission is referred to as "Proxy Access" and can be requested on MyChart. Click here to view instructions on how to request access.
To revoke MyChart access to a Proxy to whom you previously granted access, you should fill out a MyChart Proxy Deactivation Request Form. This form must be signed in the presence of a clinic representative. Ask for the form at the front desk. All eligible parties must show ID at the time of signing. Washington State law prohibits MyChart proxy access to records of children age 13-17.
MyChart: Here is a video on how to complete a MyChart YouTube echeck-in and how to join the telehealth video visit. For more information, click here.
Authorize Another Provider or a Personal Representative to Manage Your Care
To request that VMC share your medical record with another provider, or wish to authorize VMC to speak to an individual other than yourself about your care, you will need to make a written request. Download a Release of Information Authorization form, fill it out and submit it to VMC's Health Information Management department. For directions on filling out this form, click here.