Resources for Parents
The Parent Resources page keeps you up to date with events and resources through out our community that may be of interest to you. Information about non-VMC sponsored events is for your consideration only: we cannot guarantee the accuracy/content of the listed events and services.
Shayla's List
A menu of resources to support individuals with intellectual and developmental disabilities (IDDs).
This resource list was created by Shayla Collins and is distributed through the Washington State Medical Home Partnerships Project (MHPP). If you would like to share ideas or feedback on this list, please send an email to info@medicalhome.org.
---
Special Healthcare Needs
Visit the Washington State Department of Health website for publications on children and youth with special healthcare needs.
---
Living Well Kent
LivingWell Kent provides early intervention programming, food access, health and wellness services and youth empowerment programs focused on health equity".
Click here to view their website
Click here to view their early learning page
---
FREE Online STEAM Coaching Program with Starlight and CoachArt
Starlight Children's Foundation has partnered with CoachArt to launch their new online educational STEAM Coaching Program. These fun lessons, integrating Science, Technology, Engineering, Art, and Math (STEAM), are FREE for ages 5-18. From cooking to coding to science experiments and art, these virtual lessons stimulate curiosity and promote creative solutions to real-world problems, helping kids explore, learn and improve various skills that interest them. When you sign up, volunteer coaches will contact you to propose activities and schedules that you can choose from. Starlight will send you a STEAM Starter Kit and any lesson materials you may need. To learn more check out starlight.org/education.
---
FREE ParentChild+ Early Learning Program through Intercultural Children & Family Services
Check out the ParentChild+ Early Learning Program where specialists help children get ready for school. This two-year virtual visit program is for ages 16 months-2 years. There will be free educational books and toys, plus a computer tablet provided. Check out the flyer here and learn more by contacting sapcpiccfs@gmail.com or call Bri Arfi at 253.733.9952.
---
Skills For Work Summer Camps
Skills for Work Summer Camps is now happening at Bellevue College! They are teaming up with the Division of Vocational Rehabilitation to offer Pre-Employment Training Services (Pre-ETS). This will be a summer camp that will give 16-21 year old students job readiness training and community activities to explore the world of work. The goal is to introduce workplace readiness skills and career options to students by engaging in fun activities! For more information and to register, click here.
---
YMCA Programs
Join the Y and the Seattle Krakens for a sports sampler camp this summer. For more information click here.
---
COVID Vaccine & Kids
Check out this article written by speech therapist Betsy De La Rosa, MA,CCC-SLP as she gives families resources to talk about the COVID vaccine, especially if your child fears needles! Resources include a cool/fun music video and a social story. For more information click here.
---
Transition IEP Parent Panel
Join this online Lunch and Learn as they cover topics such as what DDA services looks like during transition years (ages 16-21). Also, pre-vocational support starting at 16 years old and many more topics. For more information and to register click here.
---
Free Speech/Language Text Messages for Kids
Bright by Texts is offering a great virtual resource for you child's speech and language development, and learn how to support you child's communication skills at home. They are offering a service to families giving them free informational text messages both English and Spanish! Simply text "TALK" to 27448 and follow the link to provide information on your child's developmental age and your location for free resources of local community events.
---
New York City Ballet Virtual Workshop
Join the New York City Ballet for their three weeks virtual workshops! Movers of all abilities are welcome to join for FREE! For more information on dates and to register click here.
---
Webinar Class
This webinar class is for parents to learn about four strategies designed to impact their child's development and have a chance to discuss recommendations on their child's diagnostic report. Also, this is a chance to ask questions and buid community with other parents. This webinar for this month will be for Spanish speaking families with children under three. For more information click here.
---
Parenting Class
Parenting is hard work! This website gives you a list of locations that offer parenting classes. Some locations require a small fee, others are free. For more information on dates, time and availability, please check out this link.
---
Car Seat Inspection Event
Here is a list of places that are doing car seat inspections. Social distancing and COVID safety measures will be in practice, to find an area near you and register please click here. For more dates and locations please click here.
---
COVID-19 impact on Education
This project aims to understand the impact of COVID-19 pandemic for services and education your child receives. Who qualifies to participate? Parents of 0-3 years old children who have been receiving Part C/Early Intervention/home-based intervention services since Fall 2019. And parents of 3-5 years old children with/without disabilities attending classroom-based instructions since Fall 2019. For more information please click here (English) (Spanish).
---
Pondering Pandemic Learning Pod
In this article you can learn ways to create a learning Pod for your children. Most schools have transitioned to online schooling and it can be difficult for families to find childcare or a space for their students to learn. Learning pods can be a way for students to socialize, learn and parents to have childcare. If you are interested in the idea check out this article for more information.
---
Child Find
Child Find is a process in identifying children (between 0-21years) who may need to be tested for developmental delays and/or disabilities. Each school district is required by law to have evaluation and services available. If you are interested in more information about child find please read this article.
---
The National Stuttering Association
The National Stuttering Association is currently hosting monthly virtual meeting for children and their loved ones. For more information on when your local chapter is meeting and where to sign-up, please click here.
---
Five Week Class for Families
Seattle Children's is offering a 5 week class on finding strength and building community for parents and caregivers of children with health conditions or disabilities. For more information please checkout this flyer.
---
Helpful Tips for Reading to Your Child
Reading to your baby and toddler can help with normal development of speech and language skills. Here are some tips to help guide you in reading to your child, from birth to preschooler. (English) (Spanish)
---
Supporting Your Baby's Learning: Play in the First Year
Play helps babies learn about their bodies, practice communicating and interact with their world. Get play ideas for supporting your baby's learning for each stage of the first year here. (English) (Spanish)
---
School District Information
Your local school district is a wonderful resource for support for you child. In addition to the clinical therapy your child receives, he or she may also be eligible for services in your local school district, beginning at age 3. The attached document provides in our area, simply click on the link.
---
Early Intervention Providers
Connect with a directory of providers offering specific programs for children aged 0-3.


---
Free Weekly Creative Development Art Class at Children's Therapy Clinic
Join us on Thursdays, 12 – 1 PM, where children of all ages (not limited to Children's Therapy patients—welcome siblings and friends!), will be provided an opportunity to learn through a variety of sensory experiences in the familiar space of the Children's Therapy Clinic. Art activities are also an opportunity to allow children to develop social skills, express emotions, follow structured activities, and improve coping skills. Plus, it's a lot of fun! No registration required, it's completely free, so just show up and start creating!
---
Recreation, Play, and Camps
Please click here to access a PDF filled with wonderful places to play for you, your child, and your family! Play together!
The Play Lounge is a wonderful place for families to play. For more information, check out their Facebook page!
For more resources click here.
---
Camp Information
Washington state summer camp and program options for children with special healthcare needs: This resource also has information to help address concerns if this is your child's first time camping. View here
---
Toy Selection Tips from Occupational Therapists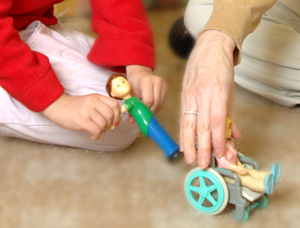 Occupational therapy practitioners are experts in promoting participation in activity, including play. Read this toy selection checklist, developed by occupational therapy practitioners, to assist you in selecting toys that can help your child learn and develop while having fun.
Appropriate Toy and Play Development Tip Sheets
Birth to 12 months English Spanish
---
Resources for Children and Families
Amerigroup Benefits
Sports Physicals: These are paid once a year for members ages 7-18. We pay in-network primary care providers for performing sports physicals for our members ages 7-18. Use current CPT code 99212 with DX Z02.5 when you bill. You can bill for both a wellness visit and a sports physical on the same day by including modifier 25.
Free Memberships for WA State 4-H| 4-H is a youth development program that serves youth statewide for member ages 5-18
Free Boys & Girls Club Membership | where available for members ages 6-18
Healthy Families Program: We give families with children ages 7-13 coaching and support on nutrition and physical activity
Memberships for WA State 4-H: This benefit is available for members ages 5-18 to support with youth development statewide
Calm app: This is an annual membership for members up to 18 years old. The Calm App provides age appropriate meditations and sleep aids to help calm the mind and body
TutorMe-online Tutorial: TutorMe is an online platform used to improve student engagement and success by providing easy access to detailed information on student's progress, hours spent, tutoring and subject analytics. The maximum allowance is 24 hours per member, per year. This benefit is available for members between 8-17 years of age and at risk of failing a grade or individual subject, or in the juvenile justice system.