Resources for Parents
The Parent Resources page keeps you up to date with events and resources through out our community that may be of interest to you. Information about non-VMC sponsored events is for your consideration only: we cannot guarantee the accuracy/content of the listed events and services.
2022 Summer Camps
Check out the 2022 Summer Camps and Recreational list. Here you can find a wide variety of camps and activities for all ages and varying locations. You can also find information on swimming lessons for all abilities and needs.
Check out The City of Renton's Summer Camp opportunities. Summer Day Camps are now Registering! Renton Recreation and our partners are looking forward to celebrating summer with you! Whether you are looking for an all-day experience, a specialty niche, sports, aquatics or the great outdoors we have a summer line-up for ages 6 to 14. All camps are designed to foster personal growth, create new and unique experiences, in a recreational environment.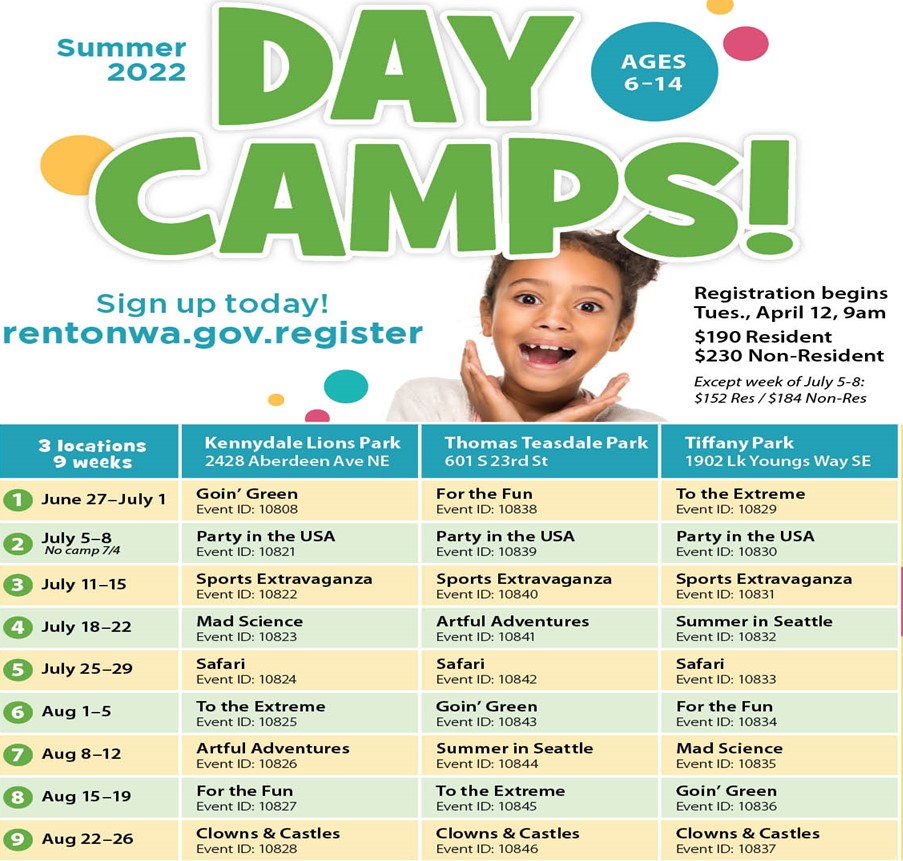 ---
Thanks to the Washington Recreation & Park Association (WRPA), Association of Washington Cities (AWC), and the Office of the Superintendent of Public Instruction (OSPI) we are able to offer scholarships through an amazing funding source called "SEEK". The SEEK Scholarship (Summer Experiences & Enrichment for Kids) program allows children ages 6-14 to attend up to three weeks of STREAM Team Summer Camp as well as COYLE Outside Summer programs for Summer of 2022.
Specialty Camps

Specialty Camps are the perfect place to spend a week (or many weeks) of your Summer learning and developing new interests in a hands-on environment! In these camps you'll dive deeper into a particular subject area whether it's art, engineering, cartooning, outdoor life skills, or movie making; we've got a fun and unique experience for you this Summer!
Scholarships are also available for eligible participants. Check out the Gift of Play Scholarship and see if it's right for you!



Youth Athletic Camps

The City of Renton Recreation Division has teamed up with Skyhawks this Summer for all of your Youth Athletics Summer Camp needs!
---

The Kent Parks Youth & Teen division offers a variety of camps throughout the year to fit the schedule and needs of you and your child. Check out the links above to see all programs, activities, and camps your child could take part in! Examples will be listed below and more found on the website!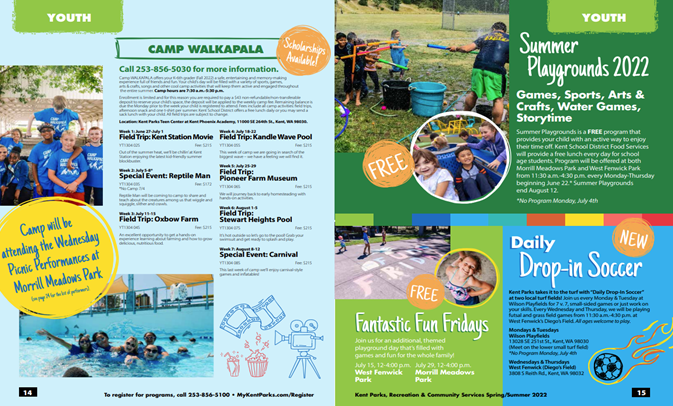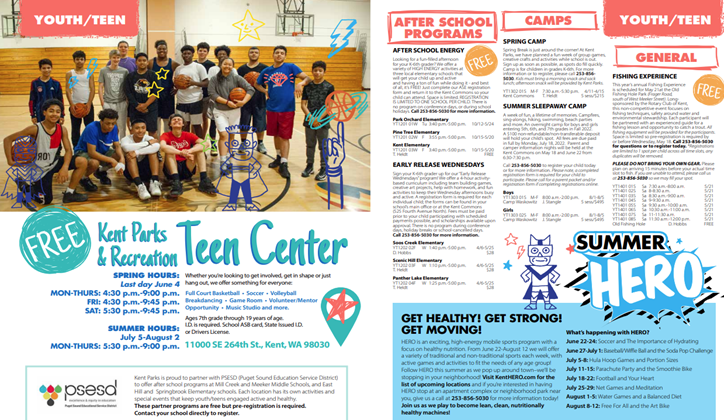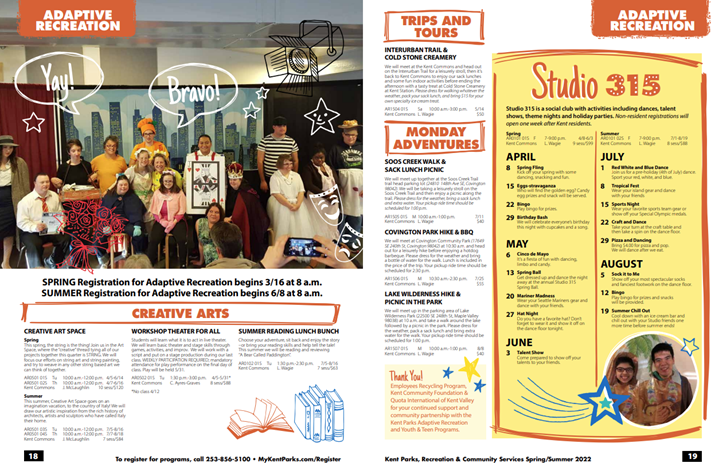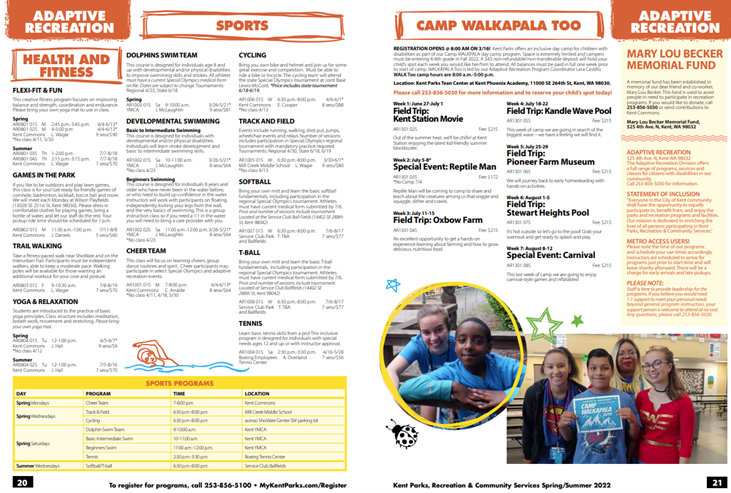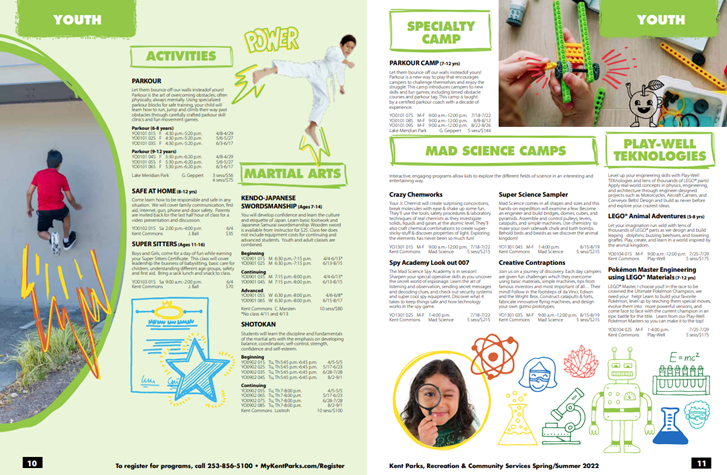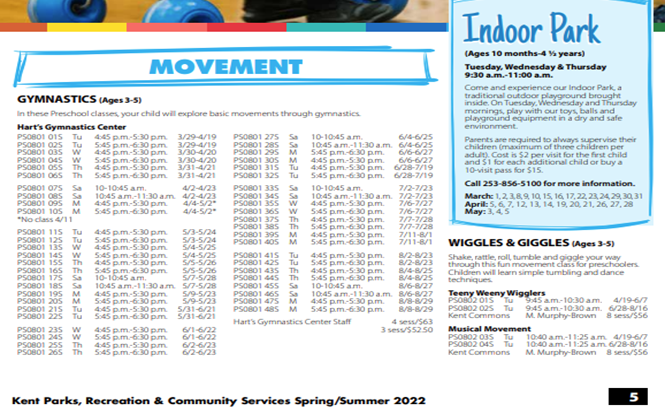 ---
Check out Seattle Parks and Recreation for 2022 Summer Day Camps. As the most challenging part of the pandemic seems to be behind us, we're so excited to be rebuilding our staff and offering a variety of summer camps this year! Check out what's available below so far. Updates may be added as we determine staff capacity.
Activity Camps
School Age Care Summer Day Camp
Magnuson Park Summer Camps
Discovery Park Nature Camps
Carkeek Earthkeepers Day Camps
Camp Long Nature and Adventure Camps
Specialized Programs Summer Camps
Free Programs and Meals
Preschool Camps
Rowing and Boating Camps
---
Boys and Girls Clubs of King County Summer Camp
Find a Boys and Girls Club near you!
Summer Day Camps: K-5th Grade

In this action packed summer camp, kids will have the time of their lives. Our summer camps are safe, inclusive, engaging, and fun. Each week has a different theme, where kids will get to participate in a variety of activities, field trips (if safe), and make lasting friendships!



Summer Sports Camps: K-12th Grade

Join us this summer for our fun, skill-building programs that are designed for beginner to intermediate athletes. We have a variety of sports camps and clinics offered all summer long!



Teen Summer Camps: 6th-12th Grade

Teens can hang out with friends, connect with caring mentors, and participate in fun activities like sports, arts, and volunteerism. Every day teens are out and about doing something new! From planning and implementing service projects to growing their leadership skills through team challenges, this is an excited program that teens love!
---
Camp Erin - King County
Camp Erin-King County is a free weekend camp for children and teens ages 6-19 that combines traditional, fun camp activities with grief education and emotional support, free of charge for all families. Led by grief professionals and trained volunteers, Camp Erin provides a unique opportunity for youth to increase levels of hope, enhance self-esteem, and especially to learn that they are not alone.
---
Summer Camp - by Camp Korey
http://campkorey.org/camper-programs/summer-camp/
24880 Brotherhood Road Bldg A
Mount Vernon, WA 98274
(425) 440-0850
This summer, we will be hosting condition-specific programming open to your whole family (up to 6 members) in a safe, intentional, and fun environment. Each family member will have the opportunity to join in the fun right alongside their camper and experience what camp is truly about. Families will eat, sleep, and do some activities within their own family pod, and, in socially distanced program areas, join other family pods for even more fun! The program schedule is full of opportunities to spend time growing as a family, participating in activities, and making connections to those with similar journeys.
---
Camp Prov Special Day Camp
https://www.providence.org/locations/wa/providence-regional-medical-center-everett/childrens-center#tabcontent-1-collapse-3
Forest Park, 802 E. Mukilteo Blvd. Everett.
Camp Prov is a fun, supportive, educational day camp for children with special needs and their siblings. Small groups of children are paired with leaders and volunteers for hours of fun, including arts and crafts, music, nature activities, dance and movement, swimming and sensory play. The one-week camps typically run July through August.


Check out Recreational Camps compiled by the Washington Autism Alliance and Advocacy below and more on the website above!
Camp Berachah
19830 SE 328th Place
Auburn, WA 98092
253-939-0488 or 800-859-2267
Camp Berachah has been serving families for over 34 years through sponsored programs throughout the year. Offers weekly special needs camps for children age 5-18 throughout summer. Examples of conditions included are: ADHD, autism, Asperger Syndrome, partial blindness, deafness, Down Syndrome, and physical limitations which would require accommodation. Campers are pre-screened to determine placement.


---
Camp BLAST (Being Leaders and Sharing Talents)
Wallingford Boys & Girls Club
503 N 50th St., Seattle, WA 98103
206-547-7261
www.wallingfordboysandgirlsclub.org
Camp BLAST was awarded the Honor Award for Program Excellence in May 2007 at the Boys and Girls Club National Conference. Designed for high-functioning developmentally disabled children age 9-17, the camp's goal is to help participants develop confidence, independence, and improve their understanding of health and safety. Activities include multi-cultural cooking, movies, art, and field trips to pools, beaches, parks, zoos, the aquarium, fire and police stations, libraries, bowling, swimming, hiking and more. Camps are held at various Seattle locations.


---
Camp Burton
9326 SW Bayview Drive
Vashon Island, WA 98070
206-463-2512
www.campburton.com/youth_new_horizons_camp.html
Camp Burton provides two types of summer camps for developmentally disabled youth and adults: The Youth New Horizons Camp for ages 13-24; and Camp Parkview for adults. Activities include swimming (at the local pool), canoeing, games, archery, dancing, and campfires. Campers must be able to care for their personal needs (eating, dressing, and restroom) with minimal assistance and be able to participate in most camp activities.


---
Camp Killoqua – Camp Fire USA (Snohomish County Council)
4312 Rucker Avenue
Everett, WA 98203
425-258-5437
killoqua@campfireusasnohomish.org
Located on 185 acres of forest and lakefront near Stanwood, the camp serves children ages 7-21 with mild to moderate developmental disabilities. Participants must have self-help skills including feeding, dressing, toileting and grooming. Both mainstream and specialized cabin groups are available. Siblings may also attend. To ensure a successful session, please contact Camp Killoqua prior to registering to discuss your needs, and also be sure to indicate the inclusion program on your camp registration form. They may be unable to accommodate campers with special needs if the camper is not registered through this program.
---
City of Seattle Parks & Recreation Department
Special Needs Youth Summer Camp
100 Dexter Avenue N
Seattle, WA 98109
206-684-4950
www.cityofseattle.net/parks/specialpops/index.HTM
Offer recreational day and overnight camps for children age 4-21 with developmental and learning disabilities, attention deficit hyperactivity disorder (ADHD), behavioral and social problems, visual and hearing impairments, physical disabilities, and medical conditions. Overnight camps are held at Camp Long in West Seattle, while day camps are at Lower Woodland Park. Year-round offerings include day and after school programs, swim lessons, bowling, Special Olympics and teen socials. The Specialized Programs staff will also work with individuals or family members who would prefer to integrate into other Department programs but need some type of accommodation such as an interpreter.
---
Gluten Intolerance Program at Camp Sealth
15110 10th Avenue SW, Suite A
Seattle, WA 98166
206-246-6652
www.gluten.net/events.php#camps
Volunteers with the Gluten Intolerance Group of Seattle will prepare meals for children on special diets during a regular camp for ages 6-18 held in August. Siblings may attend.
---
King County Specialized Recreation
201 S. Jackson St., Suite 700
Seattle, Wa 98104
206-296-4136
www.arcofkingcounty.org/guide/recreation/organizations/king/
King County Parks & Recreation offers Specialized Recreation programs specially designed for people – age 16 and older – with developmental disabilities. People with special needs are encouraged to participate in all recreational programs offered for the public also. Pre-registration is required for all programs.
---
Pacific Science Center Summer Science Day Camp
200 Second Avenue
Seattle, WA 98109
206-443-2001 or 206-443-2925
Offers weeklong science camps at the Pacific Science Center in Seattle and Mercer Slough Environmental Education Center in Bellevue from June through August. Although not specifically designed for children with disabilities, parents of children with physical disabilities, learning and developmental disabilities, behavior disorders, and other medical conditions or diagnoses must call ahead to discuss what camps would be right for your child in grades K-8.
---
Special Saturday Club – Camp Fire USA (Central Puget Sound Council)
8511 15th Ave NE
Seattle, WA 98115
206-826-8908
www.campfire-usa.org/specialsaturdayclub
Special Saturday Club provides children with disabilities, ages 2-12, and children without disabilities, ages 2-10, an opportunity to participate in year round recreational and social activities that are adapted to the abilities and interests of each child. Each session is staffed by an adult program manager and 2 to 4 teens trained in Camp Fire USA's Special Sitters Program to care for kids with special needs.
---
Check out adaptive swimming lessons below:
---
Auburn Adaptive Aquatics for Special and Medical Needs
We've worked with Speech Therapists and Occupational Therapists so we can better accommodate children with special needs such as autism, speech delays, motor skills delays, and other developmental concerns. From utilizing basic sign language with kids who don't yet speak, to integrating exercises in the water to help with motor development and breath control, we work to understand your child's needs and tailor our lessons to suit their comfort level and their current skills. Please just let us know how we can accommodate your child when you register. We want to create a calm, safe environment for your child to learn to enjoy the water! If you have an occupational therapist who would like to join your child in the water, coordination is possible! Please just let us know your needs when you register.
Locations that offer Special Needs Swimming Instructions
Provided by the National Autism Association
Click here for Autism Safety Fact & Swimming Instructions.
YMCA Location
Contact Name
Contaction Email
Location
Auburn Valley Branch
Rebekah Celver
rcelver@seattleymca.org
Auburn, WA 98001
Northshore Branch
Jamie Owens
jowens@seattleymca.org
Bothell, WA 98011
Mill Creek Family
Janette Parent
jparent@ymca-snoco.org
Everett, WA 98208
Tom Taylor Family
Linda Cota
lcota@ymcapkc.org
Gig Harbor, WA 98332
Lakewood Family
Christine Daly
cdaly@ymcapkc.org
Lakewood, WA 98499
Monroe / Sky Valley
Family Branch
Leif Ellsworth
LEllsworth@ymca-snoco.org
Monroe, WA 98272
Mel Korum Family
Jodie Gould
jgould@ymcapkc.org
Puyallup, WA 98374
Meredith Mathews
East Madison Branch
Karine Zwicki
kzwicki@seattleymca.org
Seattle, WA 98122
Seattle
Zack Lisson
zlisson@seattleymca.org
Seattle, WA 98104
John O. Morgan Family
Natasha Castro
ncastro@ymcapkc.org
Tacoma, WA 98465
*Call your local YMCA for more info on swimming lessons near you*


The Henry Moses Aquatic Center is closed for the season. We are currently in the process of planning the 2022 swim season. We are hopeful to start our season, Saturday, June 25, through Monday, Sept. 5. Check back in early May for the latest developments on admission fees, swim session times, online reservations, programming and what you can expect for Summer 2022 as our guest at Henry Moses Aquatic Center. For information regarding Henry Moses Aquatic Center please email recreation@rentonwa.gov.


---
LINDBERGH POOL:
Lap Swim Hours: Monday - Friday 6:00AM - Noon and 7:30PM - 8:30PM.Private Lessons are now available. Please call to register or for more information on dates and times. Morning Water Exercise 8:30AM - 9:30AM. Monday & Wednesday Shallow Water, Tuesday/Thursday/Friday Deep Water. All other pool activities will begin at a later date.
Check out the link for more information on swim lesson levels. These skills are the minimum requirements for each level. Placement tests are conducted during open swim for free and no registration is required.
---
KENT YMCA Swim Lessons:
As the largest provider of swim lessons in the country, there's no one more qualified than the Y to ensure swimmers build confidence with every stroke. Welcoming kids and adults of all ages and abilities, our program offers a clear progression track to monitor achievement while every lesson emphasizes personal safety around water. Whether you're just starting out or want to improve your stroke technique, each instructor tailors lessons to fit the needs of needs student or students in the class. Swimming is a low-impact sport that works all your muscle groups and builds cardiovascular endurance. It also stretches and lengthens your body, improving your posture. The support of the water and the lack of joint impact make swimming a good choice for people who are unable to undertake high-impact activities. Opportunities for Private and Group Instruction.
---
Covington Aquatic Center: is proud to offer the gold standard of swim instruction: The American Red Cross Learn-to-Swim program. Each of our instructors is certified as both an American Red Cross Lifeguard and an American Red Cross Water Safety Instructor, and undergoes additional in-house training continuously to assure program quality. We offer classes for everyone! Whether you are brand new or an experienced swimmer, we can help you improve your swimming ability and water safety skills! Classes are offered for all ages and all ability levels. Parent & Child classes require an adult from the same household in-water with the student to provide support. Preschool Aquatics and lower Learn-to-Swim Levels are offered with instructors in the water. Beginning levels focus on water adjustment and introduce basic swimming and water safety skills. More advanced levels concentrate on stroke development, stroke refinement and additional water safety skills. Lessons are 30-minutes long, except for Competitive Swim Lessons and Adult Swim Lessons, which run for 60-minutes. If you do not know which level to register for, please contact us at parks@covingtonwa.gov for a consultation.
Register for Spring (March 7, 2022 - June 18, 2022) Swimming Lessons Online or call (253) 480-2480
Private Lessons are available in sets of 4 (1 day/week) or as individual 25-minute sessions. Semi-Private Lessons are available for two or more students registering for the same private session in the same transaction.
Private Swim Lesson Fee - $38.00
Semi-Private Swim Lesson Fee - $23.00


---
Seattle parks and Recreation offers a variety of swimming classes, lessons, and exercises at our pools. Find a pool in your area or contact your location directly for dates, times, and availability. A variety of classes are offered for all swimmers. For more information check out the link for schedules, lessons, locations, and more!
Shayla's List
A menu of resources to support individuals with intellectual and developmental disabilities (IDDs).
This resource list was created by Shayla Collins and is distributed through the Washington State Medical Home Partnerships Project (MHPP). If you would like to share ideas or feedback on this list, please send an email to info@medicalhome.org.
---
Special Healthcare Needs
Visit the Washington State Department of Health website for publications on children and youth with special healthcare needs.
---
Living Well Kent
LivingWell Kent provides early intervention programming, food access, health and wellness services and youth empowerment programs focused on health equity".
Click here to view their website
Click here to view their early learning page
---
FREE Online STEAM Coaching Program with Starlight and CoachArt
Starlight Children's Foundation has partnered with CoachArt to launch their new online educational STEAM Coaching Program. These fun lessons, integrating Science, Technology, Engineering, Art, and Math (STEAM), are FREE for ages 5-18. From cooking to coding to science experiments and art, these virtual lessons stimulate curiosity and promote creative solutions to real-world problems, helping kids explore, learn and improve various skills that interest them. When you sign up, volunteer coaches will contact you to propose activities and schedules that you can choose from. Starlight will send you a STEAM Starter Kit and any lesson materials you may need. To learn more check out starlight.org/education.
---
FREE ParentChild+ Early Learning Program through Intercultural Children & Family Services
Check out the ParentChild+ Early Learning Program where specialists help children get ready for school. This two-year virtual visit program is for ages 16 months-2 years. There will be free educational books and toys, plus a computer tablet provided. Check out the flyer here and learn more by contacting sapcpiccfs@gmail.com or call Bri Arfi at 253.733.9952.
---
Skills For Work Summer Camps
Skills for Work Summer Camps is now happening at Bellevue College! They are teaming up with the Division of Vocational Rehabilitation to offer Pre-Employment Training Services (Pre-ETS). This will be a summer camp that will give 16-21 year old students job readiness training and community activities to explore the world of work. The goal is to introduce workplace readiness skills and career options to students by engaging in fun activities! For more information and to register, click here.
---
YMCA Programs
Join the Y and the Seattle Krakens for a sports sampler camp this summer. For more information click here.
---
COVID Vaccine & Kids
Check out this article written by speech therapist Betsy De La Rosa, MA,CCC-SLP as she gives families resources to talk about the COVID vaccine, especially if your child fears needles! Resources include a cool/fun music video and a social story. For more information click here.
---
Transition IEP Parent Panel
Join this online Lunch and Learn as they cover topics such as what DDA services looks like during transition years (ages 16-21). Also, pre-vocational support starting at 16 years old and many more topics. For more information and to register click here.
---
Free Speech/Language Text Messages for Kids
Bright by Texts is offering a great virtual resource for you child's speech and language development, and learn how to support you child's communication skills at home. They are offering a service to families giving them free informational text messages both English and Spanish! Simply text "TALK" to 27448 and follow the link to provide information on your child's developmental age and your location for free resources of local community events.
---
New York City Ballet Virtual Workshop
Join the New York City Ballet for their three weeks virtual workshops! Movers of all abilities are welcome to join for FREE! For more information on dates and to register click here.
---
Webinar Class
This webinar class is for parents to learn about four strategies designed to impact their child's development and have a chance to discuss recommendations on their child's diagnostic report. Also, this is a chance to ask questions and buid community with other parents. This webinar for this month will be for Spanish speaking families with children under three. For more information click here.
---
Parenting Class
Parenting is hard work! This website gives you a list of locations that offer parenting classes. Some locations require a small fee, others are free. For more information on dates, time and availability, please check out this link.
---
Car Seat Inspection Event
Here is a list of places that are doing car seat inspections. Social distancing and COVID safety measures will be in practice, to find an area near you and register please click here. For more dates and locations please click here.
---
COVID-19 impact on Education
This project aims to understand the impact of COVID-19 pandemic for services and education your child receives. Who qualifies to participate? Parents of 0-3 years old children who have been receiving Part C/Early Intervention/home-based intervention services since Fall 2019. And parents of 3-5 years old children with/without disabilities attending classroom-based instructions since Fall 2019. For more information please click here (English) (Spanish).
---
Pondering Pandemic Learning Pod
In this article you can learn ways to create a learning Pod for your children. Most schools have transitioned to online schooling and it can be difficult for families to find childcare or a space for their students to learn. Learning pods can be a way for students to socialize, learn and parents to have childcare. If you are interested in the idea check out this article for more information.
---
Child Find
Child Find is a process in identifying children (between 0-21years) who may need to be tested for developmental delays and/or disabilities. Each school district is required by law to have evaluation and services available. If you are interested in more information about child find please read this article.
---
The National Stuttering Association
The National Stuttering Association is currently hosting monthly virtual meeting for children and their loved ones. For more information on when your local chapter is meeting and where to sign-up, please click here.
---
Five Week Class for Families
Seattle Children's is offering a 5 week class on finding strength and building community for parents and caregivers of children with health conditions or disabilities. For more information please checkout this flyer.
---
Helpful Tips for Reading to Your Child
Reading to your baby and toddler can help with normal development of speech and language skills. Here are some tips to help guide you in reading to your child, from birth to preschooler. (English) (Spanish)
---
Supporting Your Baby's Learning: Play in the First Year
Play helps babies learn about their bodies, practice communicating and interact with their world. Get play ideas for supporting your baby's learning for each stage of the first year here. (English) (Spanish)
---
School District Information
Your local school district is a wonderful resource for support for you child. In addition to the clinical therapy your child receives, he or she may also be eligible for services in your local school district, beginning at age 3. The attached document provides in our area, simply click on the link.
---
Early Intervention Providers
Connect with a directory of providers offering specific programs for children aged 0-3.


---
Free Weekly Creative Development Art Class at Children's Therapy Clinic
Join us on Thursdays, 12 – 1 PM, where children of all ages (not limited to Children's Therapy patients—welcome siblings and friends!), will be provided an opportunity to learn through a variety of sensory experiences in the familiar space of the Children's Therapy Clinic. Art activities are also an opportunity to allow children to develop social skills, express emotions, follow structured activities, and improve coping skills. Plus, it's a lot of fun! No registration required, it's completely free, so just show up and start creating!
---
Recreation, Play, and Camps
Please click here to access a PDF filled with wonderful places to play for you, your child, and your family! Play together!
The Play Lounge is a wonderful place for families to play. For more information, check out their Facebook page!
For more resources click here.
---
Camp Information
Washington state summer camp and program options for children with special healthcare needs: This resource also has information to help address concerns if this is your child's first time camping. View here
---
Toy Selection Tips from Occupational Therapists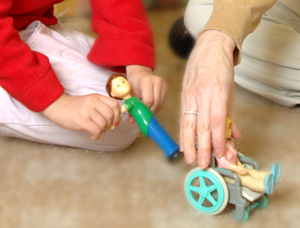 Occupational therapy practitioners are experts in promoting participation in activity, including play. Read this toy selection checklist, developed by occupational therapy practitioners, to assist you in selecting toys that can help your child learn and develop while having fun.
Appropriate Toy and Play Development Tip Sheets
Birth to 12 months English Spanish
---
Resources for Children and Families
Amerigroup Benefits
Sports Physicals: These are paid once a year for members ages 7-18. We pay in-network primary care providers for performing sports physicals for our members ages 7-18. Use current CPT code 99212 with DX Z02.5 when you bill. You can bill for both a wellness visit and a sports physical on the same day by including modifier 25.
Free Memberships for WA State 4-H| 4-H is a youth development program that serves youth statewide for member ages 5-18
Free Boys & Girls Club Membership | where available for members ages 6-18
Healthy Families Program: We give families with children ages 7-13 coaching and support on nutrition and physical activity
Memberships for WA State 4-H: This benefit is available for members ages 5-18 to support with youth development statewide
Calm app: This is an annual membership for members up to 18 years old. The Calm App provides age appropriate meditations and sleep aids to help calm the mind and body
TutorMe-online Tutorial: TutorMe is an online platform used to improve student engagement and success by providing easy access to detailed information on student's progress, hours spent, tutoring and subject analytics. The maximum allowance is 24 hours per member, per year. This benefit is available for members between 8-17 years of age and at risk of failing a grade or individual subject, or in the juvenile justice system.