Speech Therapy for Children
Speech-language pathologists (SLPs), also called speech therapists, complete a 2+ year clinical master's degree program, followed by a supervised clinical fellowship year. This qualifies SLPs for the Certificate of Clinical Competence (CCC) from the American Speech-Language and Hearing Association (ASHA). The CCC designation is the gold standard and recognized throughout much of the world.
Find out more at the ASHA website.
Our speech therapists work with children from birth to 18 to help them with speech, language, social communication, reading, feeding and swallowing, voice, and cognition. We work with children who have a wide range of diagnoses including hearing loss, cerebral palsy, autism, or other developmental delays. We often work with children who have delayed speech and language (late talkers), who have trouble pronouncing their sounds (articulation), have difficulty putting words together in sentences or understanding sentences (language development), or have trouble speaking smoothly (stuttering or stammering). Most of our work with young children is through play therapy.
We work with families as a team, since you know your child best, and we provide materials, activities, and ideas for a home program. Most children attend weekly 45-minute therapy visits, and usually family members are in the therapy session, where we can explain what we are doing and recommend activities for home. In some situations, children work best on their own with the therapist. What Do Speech Therapists Do?
While every child develops at his or her own speed, if you notice that your child's speech and language skills are significantly behind peers, you may wish to consult with a speech therapist. If you are not sure whether your child is delayed, it is worth having a check-up. Our first step is an evaluation, which can be ordered or prescribed by your doctor. Evaluations are scheduled in our office (3600 Lind Avenue, Renton) and usually take 60-90 minutes. If you need an interpreter, Children's Therapy will provide one.
Call 425-690-3513 between 8 a.m. and 6 p.m., Monday through Friday, to speak with a scheduler. Before calling to schedule, you will need your healthcare provider to send a referral to our clinic.
During the appointment, our speech therapist will discuss your concerns about your child and perform a comprehensive evaluation. Depending on your child's age, needs, and skills, this is done through a standardized assessment, and/or by observation, and discussion with caregivers. The speech therapist will explain the results of the assessment, and give you a recommendation about whether to seek speech therapy services. Speech therapy is generally conducted in 45-minute therapy sessions usually weekly or biweekly.
Sometimes our speech therapist may see signs that your child can benefit from other services as well, and recommend an evaluation with an occupational therapist, physical therapist, or family counselor at Children's Therapy. We also provide information about other services available in the community such as Birth-to-Three programs, or school district-based services for children over 3 years of age. If necessary we may suggest that your child be seen by medical providers such as an ear, nose and throat doctor (ENT), or a neurologist. Because hearing is essential to learning spoken language, the speech therapist may recommend an audiology examination to be sure that your child can hear well. Pediatric audiologists are skilled at carrying out hearing tests with young children.
Consider scheduling an evaluation if any of the following are NOT displayed by your child:
12 months to 18 months: shows interest in communicating with people; has started to use words and make speech-like sounds; understands simple instructions
18 months: has started to say and use single words.
2 years: uses words to ask for basic needs; uses 2-4 word sentences; has vocabulary of 50-100 words.
3 years: speech is intelligible (i.e. understandable) 75% of the time; uses words to express ideas.
4 years of age: can ask and answer questions, follow directions, and speak in sentences.
5 years: is 95-100% intelligible to unfamiliar listener; can tell a story; uses verb tenses; uses all kinds of sentences.
5-7 years: pronunciation is clear for sounds such as S, L and R.
6-7 years: can learn to sound out words for reading.
Also consider contacting a speech therapist if your child:
Shows lack of interest in playing with other children or talking to peers or adults
Consistently will not speak to unfamiliar people or in public situations such as school
Has trouble understanding what they have been taught in school, either by hearing or reading the material
Has difficulty with social language, knowing what to say and how to respond in different situations.
Is a very picky eater, only accepting a few foods
Is stuttering or stammering (speech is not fluent—repeats words or syllables)
Has changes to his or her voice such as hoarseness or nasality
For more information on child language development, visit ASHA's information pages
A treatment plan is written by the evaluating therapist, unique to the child's needs, based on clinical evidence (i.e. the best scientific clinical studies). The treatment plan may be revised based on the child's progress and the parents' priorities. With very young children who are still learning to communicate and talk, we use play-based therapy. This may include toys, games, arts and crafts, puzzles, books, gym activities and anything that is interesting and motivating to your child. We want to engage children at their level and get them excited about communicating, targeting their own likes, skills and interests. Some children also benefit from learning some sign language, or using picture communication systems, to assist their language development. We provide support for augmentative and alternative communication (AAC--both high-tech and low-tech).
For older children with specific speech and language needs, we keep the fun element but focus on skill-building using table-based activities, including books, picture cards, board games, and other specialized speech and language materials. Every child is an individual and requires an individualized plan. We are best able to help a child when we team up with the family and other providers.
Speech and language development stages vary for each child, but still proceed along typical pathways. Often, children will not "grow out of" their delays. If there is any question about a child's development, it is best to check with your child's physician. If you decide to seek an evaluation, the speech therapist can distinguish between typical delays that children will grow out of, or issues that need therapy.
Each child is unique, so we cannot define a specific timeline. While it is not possible to predict results, most of our patients show progress within a few months, with regular attendance, and consistent participation in a home program with family support.
Our goal is to support children and families by empowering families with the knowledge, strategies, and comfort to support their child's language development at home. We often provide skilled therapy for a period of time, and then take a break from therapy until a new area of need is identified.
Many health insurance plans cover speech therapy, but it is a good idea to call your company to find out. Some policies cover certain diagnoses but not others. Often, Health Savings Accounts or Flexible Spending Accounts can cover therapy.
Specific help can be found on the Washington Speech Hearing Language Association's website:
http://www.wslha.org/consumer-information
For more advice, see ASHA's page About Health Insurance http://www.asha.org/public/coverage/
Leslie Jeanne Berns Support Group
for children who have communication challenges and their families
The Leslie Jeanne Berns Support Group was created with generous support from the Berns family to honor their daughter, Leslie's, legacy. The intent of the group is to celebrate Leslie's memory and to positively impact the lives of children and families in need of speech development and communication support. There are few groups dedicated specifically to supporting caregivers of children with communication disorders. This group seeks to fill that gap in the community. Read more about Leslie's story and the support fund here.
Mission: To create connections and resources for children who have communication challenges and their families.
What we do: Caregivers meet once per month to share experiences, connect with community providers, engage in informational sessions, and share resources.
Who should attend: Caregivers of children with communication disorders (e.g. receptive and expressive language delay, developmental delay, Autism Spectrum Disorder, Down syndrome, etc.). Caregivers of children from birth to early adulthood are invited.
Who facilitates sessions: Sessions are facilitated by a speech-language pathologist who is a University of Washington Speech and Hearing Sciences (SPHSC) clinical faculty member and SPHSC graduate students.
Where/when do we meet: Please join us on the second Monday of the month starting at 6:00 p.m. Meetings last 1-2 hours depending on the needs of the group. We invite guest speakers, generate community connection, share resources, and have great discussions.
To sign up, please contact LJBSupport@uw.edu
FAQ:
Are you working with children also?

We are working with caregivers only at this time, but intend to expand this service to include children with communication disorders at the UW Speech and Hearing Clinic.



How often will we meet?

Once per month for 1-2 hours



Do I have to attend all the meetings?

No, but we would love to have you as often as you can make it. Meeting dates will fall within the UW Dates of Instruction



Does my child have to have a specific diagnosis?

No. This group is open to caregivers of children with a broad range of communication disorders and challenges.



How will we meet?

We are meeting virtually to allow people from a wide geographical area to participate.
---
Milestones
Children Should Learn 16 Gestures by 16 Weeks of Age
Click on this link to learn more about which gestures your child should be learning and how learning gestures helps stimulate growth in overall learning, communication and language skills.
http://www.interveningearly.org/downloads/16x16-handout.pdf
Language Development While Masking: Children's Therapy has strategies to help continue your child's early speech/language development. For more information click here.
Recreation, Play and Camps click here.
The Play Lounge is a wonderful place for families to play. For more information, check out their Facebook page!
---
Speech/Feeding Therapy Websites and Resources
Beginning with Babble: Beginning with Babble is a free app, available for Android or iPhone, that parents of children age 0-5 can download to receive daily tips on helping their child develop language.
Hanen Center Parent Tips: The Hanen Center has a website with tips for parents of children who communicate without words, children who have just started talking, and children who talk in sentences.
Speech sound worksheets: For children who are working on specific speech sounds in therapy, a large collection of words are available here.
Advanced language goals: For children working on more advanced language skills, check out some learning websites, such as Khan Academy, Starfall, and Time for Kids.
Mealtime Madness: To help avoid meltdowns at mealtime, create a schedule as a visual reference for both parents and children. This helps increase predictability while decreasing fear of the unknown. Increase participation and responsibility of your children at mealtime by encouraging them to be involved in mealtime preparation, exploring and discovering new foods, as well as cleaning up the foods after the meal. Limiting distractions, such as screens at the table, helps to promote socialization and avoids poor mealtime habits, such as overeating. For more information on how to promote healthy mealtime behaviors, see the full handout from The American Occupational Therapy Association.
---
Reading
Reading with Your Child: In this document Children's Therapy gives you specific book recommendations to promote your child's language and literacy to elementary. For more information click here.
Read a picture book together – without reading the words! Read a book and tell the story by describing what you see in the pictures instead of reading the words. Pause frequently to let your child look at, point to, or talk about pictures. For children who are using few to no words, use the sentence "I see …." to describe what you see, like "I see a big yellow fish!" For children who are speaking in sentences, ask questions about the story, such as "What do you think the bear is going to do next?" This activity is called "dialogic reading" because it helps your child to engage in a dialogue, and it's a favorite activity for many teachers and speech therapists. See dialogic reading flyer in English, Spanish, Vietnamese and Somali. If you don't have books at home, use a phone or tablet to check out free e-books at PBSkids.org.
It's More than the Words on the Page! Kristina and Amy are speech-language pathologists here at Children's Therapy. In this video they show you techniques for getting the most out of reading to your child. Their reading tips will help improve language development, from infant to later elementary ages.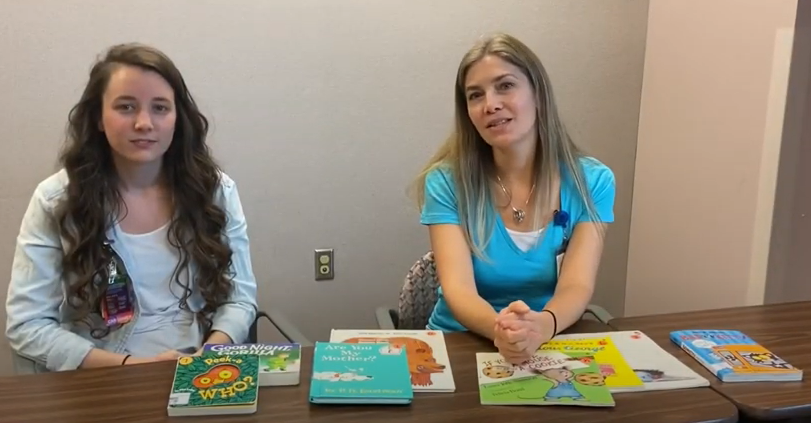 For more information click this link!