UPDATE: Valley's Children's Therapy Clinic transitioned operations to Mary Bridge Children's September 25
The past 30 months have been tough for our community. Valley has been particularly impacted creating financial challenges that require us to make significant operational changes. We recognize the care provided at Children's Therapy is critical to the health and well-being of our community. To ensure ongoing treatment and support for the families we care so much about, we transitioned operations to Mary Bridge Children's Hospital effective September 25. Care will continue in the same location on Lind Avenue with many of the same therapists and staff our patients are accustomed to.
Mary Bridge Children's offers a broad range of pediatric services and resources that will be a true benefit for our patients and staff. We are partnering closely with them through the transition to make it as easy and smooth as possible for all of our patients, families and caregivers.
Effective September 25, the new phone number will transition to 425.588.2520 and fax number will be 425.588.2521.
____________________________________________________________
At Children's Therapy, we provide inpatient and outpatient treatment in occupational therapy (OT), physical therapy (PT), speech and language therapy, social and nutritional services, and family resource coordination.
A variety of approaches help children reach their potential in mobility, daily living, social skills abilities, and communication. Exercises include large and small muscle groups, sensorimotor activities, play, technology, self-care practices, feeding activities, and the design and fitting of orthotic devices.
Children's Therapy also participates with Valley Medical Center's Neonatal Intensive Care Unit to offer evaluation, treatment, and followup for premature and full-term infants experiencing developmental and/or feeding problems.
Special programs offered by Children's Therapy include Feeding Therapy and Orthopedic Therapy
Children's Therapy is open for both in person and Telehealth visits.
For in person visits, please come inside to check in. We will be asking you health-screening questions and masks are required. After check in, you may wait with your child in your car, outside under our tent, or socially distanced in our lobby. We appreciate your understanding that only one caregiver is allowed in with your child.
If you have any questions, please let us know. We look forward to seeing you in the clinic or over video soon.
Children's Therapy está abierta tanto para visitas en persona como para visitas de telesalud.
Para visitas en persona, ingrese para registrarse. Le haremos preguntas de detección de salud y es obligatorio usar máscara. Después de la registración, puede esperar con su hijo en su carro, afuera debajo de nuestra carpa o socialmente distanciado en nuestra sala de espera. Agradecemos su comprensión de que solo se permite la entrada de un cuidador con su hijo.
Si tiene alguna duda, por favor póngase en contacto con nosotros. Esperamos vernos pronto en la clínica o por video.
Starting November 3rd, the way in which you access telehealth will change. We are excited to have Zoom telehealth fully integrated into MyChart! Please follow these steps to connect with your therapist for telehealth, as of November 3rd.
Prior to your appointment time, log into MyChart.

Go to your child's appointments under the appointment tab.

Click on the appointment for that day.

Follow the prompts.

If you are having issues the following resource is available: MyChart and Zoom patient support line 1-833-615-3204
* Here is a document to show you how to get into your teletherapy appointment. Click here (English), (Spanish)
* Here is a video visual on how to get into your teletherapy appointment. Click here.
Have a great teletherapy visit! We look forward to seeing you soon!
Let Amazon and Fred Meyer to Make a Donation to VIA in Your Name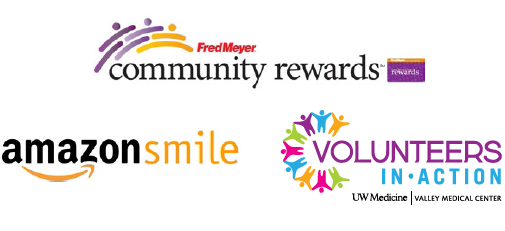 When you shop Fred Meyer or Amazon.com, your spending can benefit patients in South King County through Valley Medical Center's Volunteers in Action. VIA is a valuable financial contributor to Valley, supporting patients and employees, including:
Providing low-income families in our district Fred Meyer gift cards so they can purchase groceries for their holiday meals or buy gifts for their children
Sponsoring the NICU Family Thanksgiving dinner
Purchasing vans for VMC's free shuttle service
Funding special purchases around Valley, like the DAISY display case in the hospital main lobby
Funding scholarships for Valley employees to further their professional development
Via makes this possible through the money it raises through the gift and flower shop, special vendor sales and now Fred Meyer's Community Rewards and AmazonSmile.
How Can You Sign Up to have Fred Meyer Donate to VIA?
You can support VIA just by shopping at Fred Meyer with your Rewards Card. The donation VIA will receive is related to how many customers select VIA as their Community Rewards organization and how much they shop.
Simply link your Rewards Card to VIA by clicking this link and filling out the online form. Whenever you use your Rewards Card when shopping at Freddy's, you will be helping VIA earn a donation from Fred Meyer. If you do not have a Rewards Card, you can sign up for one for free at the Customer Service Desk of any Fred Meyer store.
What is AmazonSmile?
When you shop at smile.amazon.com, you'll find the exact same low prices, vast selection and convenient shopping experience as Amazon.com, with the added bonus that Amazon will donate a portion of the purchase price to your favorite charitable organization.
Birth to Six--Growth & Development
Access Your Child's Medical Records & Billing Information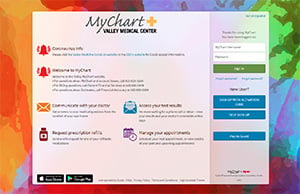 Valley Medical Center's patient portal, MyChart, offers convenient access to your child's medical records, as well as the ability to request appointments, prescription refills and more. Simply request access through MyChart. Don't have MyChart? Sign up today — it's free. Learn more about MyChart.
Parents or guardians may also request Proxy Access to view your child or ward's medical record in MyChart, or give a family member or other authorized individual access to your own MyChart account. This permission is referred to as "Proxy Access" and can be requested on MyChart. Click here to view instructions on how to request access.
You'll also have access to billing information within MyChart. Learn more about VMC's billing and payment process.
Looking at Health Plan Options? Find Out if Your Plan Covers Children's Therapy at Valley Medical Center.
Illness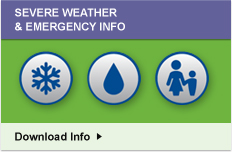 In an effort to keep everyone healthy, we ask that you keep your child at home if they have experienced fever, vomiting, or diarrhea within the last 24 hours. Please also consider keeping them at home if they have symptoms or behaviors of illness that would preclude them from participating fully in therapy. For more information on when to keep your child at home, please take a look at this document.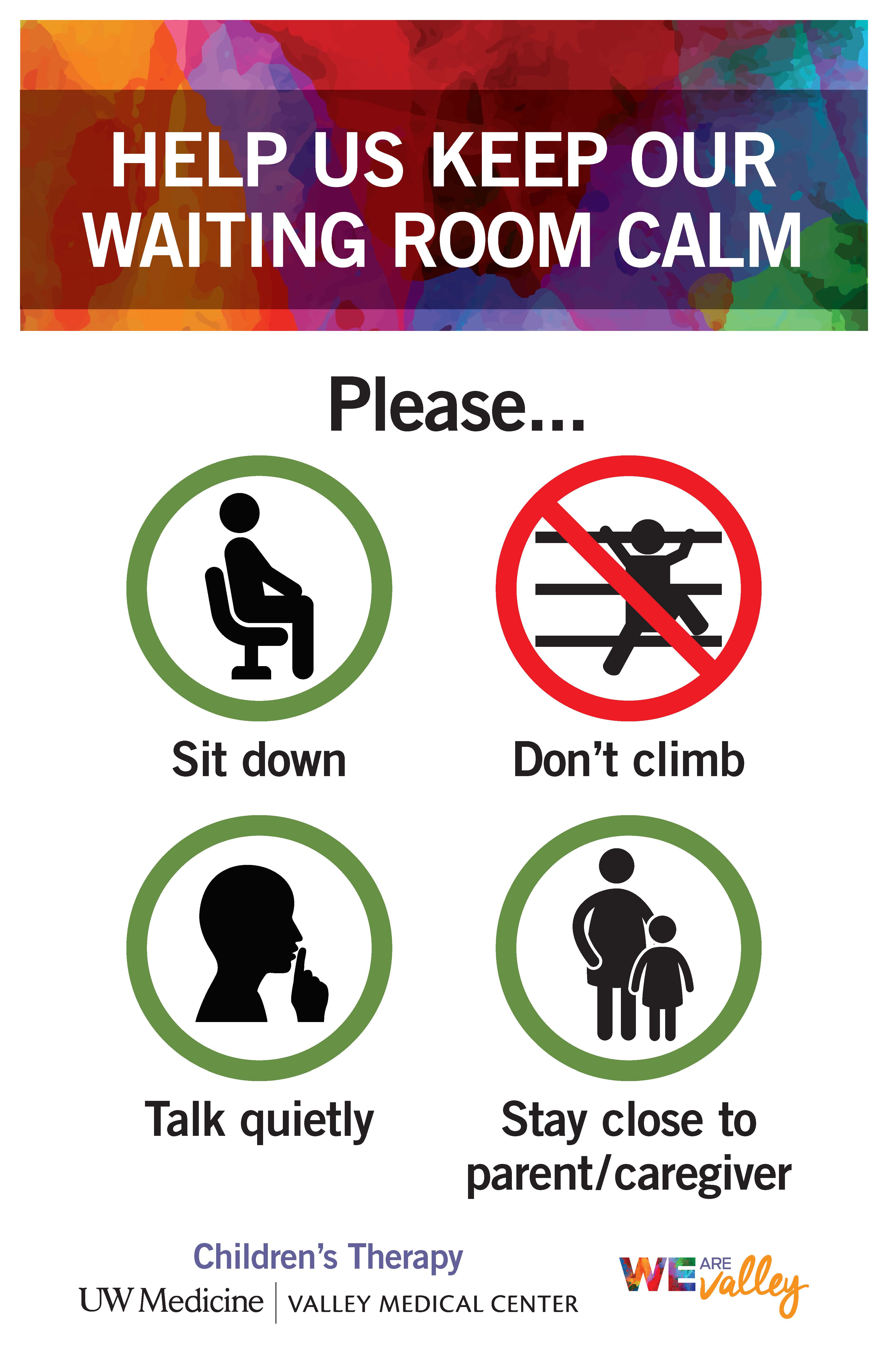 Service Location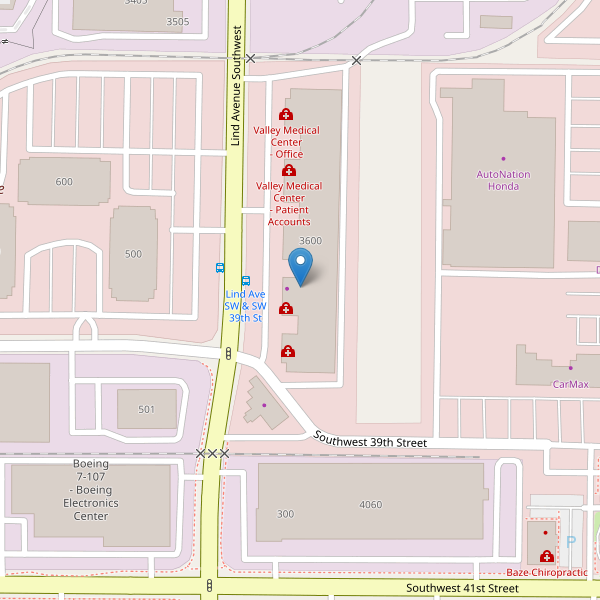 3600 Lind Avenue SW, Suite 160
Renton, WA 98057
Get Directions
Call

425.588.2520
Fax

425.588.2521