Getting You Back to the Life You Love
Moving without pain is an important part of living well. As we age or because of injury, doing things we love without pain often becomes a challenge. The skilled surgeons and staff at Valley Medical Center emphasize excellent outcomes, shortened hospital stays and the highest quality care.
Our Team Delivers Top-Rated Care
At The Joint & Spine Center, patients receive care by a collaborative, dedicated and skilled team of surgeons, nurses and therapists who specialize in joint replacement, orthopedic surgery and spine surgery.
To enhance recovery, patients receive educational materials and are encouraged to ask questions. Our pre-surgery information videos help patients learn about the surgery they have planned, what to expect before and after surgery and how to prepare, what to bring on surgery day, tips for the best recovery, how caregivers can help, and more. If a hospital stay is needed, The Joint & Spine Center, located on the 7th floor of VMC's South Tower, is a spacious and tranquil space for patients to recover.
Joint replacement surgery at Valley Medical Center is scheduled on weekdays. Scheduling for spine surgery may vary.
The Joint Center was the first dedicated joint replacement center in the Pacific Northwest. The Joint Center and its surgeons, nurses and therapists are leaders in adopting the latest technology and recovery techniques for this rapidly changing area of medicine.
One of the first to embrace computer-assisted surgery, or CAS, The Joint Center reports on our results in a multicenter study. Read about our latest leap forward in robotic joint replacement which addresses a key issue in joint replacement: alignment. Poorly aligned joints are considered a major source of pain and implant failure. Using custom cutting guides based on pre-op computer evaluation of patients' knees, William Barrett, MD, medical director for The Joint Center, was one of the early adopters of this advanced technology for joint replacement.
The Spine Center brings together neurosurgeons and orthopedic surgeons who specialize in the treatment of upper back, lower back and neck injuries. One of the first groups in the Pacific Northwest to use vertebral disc replacement as an alternative to spinal fusion, our neurosurgeons are experienced in this advanced technique.
Spine surgery procedures performed include:
Decompressive laminectomies for stenosis
Laminectomies and discectomies for herniated discs
Posterior and anterior cervical fusions for disc problems
Single and multi-level disc replacement
Instability or spinal cord compression
In addition, the Spine Center is one of the few medical centers in the Seattle area to offer cervical disc replacement as an alternative to spinal fusion. This procedure treats symptoms such as arm pain or weakness caused by degenerative disc disease in the neck, while preserving motion in the neck.


Award-Winning Care
Top Rated by HealthGrades
Valley Medical Center and our Joint & Spine Center achieve high ratings by various organizations, including HealthGrades, an independent firm evaluating national healthcare quality. Here are some of the ratings received:

HealthGrades America's 100 Best Hospitals Award, top 2% in the nation — (2020)
HealthGrades Patient Safety Excellence Award — (2022, 2021, 2020)
HealthGrades America's 100 Best Hospitals for Joint Replacement Award — (2022, 2021)
HealthGrades Joint Replacement Excellence Award — (2022, 2021, 2020)

Best Hospital for Joint Replacement by the Centers for Medicare and Medicaid Services
U.S. News & World Report: Best Hospitals for Patients Who Need Common Care: High
Performing in Hip Replacement & High Performing in Knee Replacement
BlueCross BlueShield Association: Blue Distinction Center in Knee and Hip Replacement
Service Location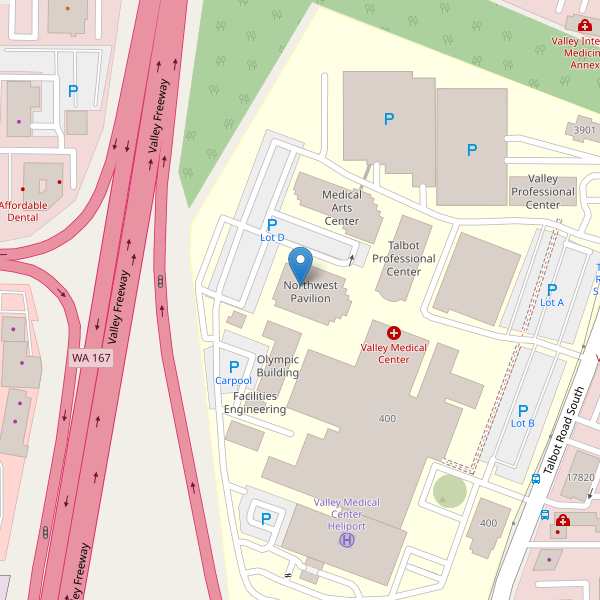 Main Hospital, South Tower 7th Floor
400 South 43rd Street
Renton, WA 98055
Get Directions
Call

425.228.3450

Classes & Events
Explore Classes & Events

Health Blog
Learn More

Make an appointment
Learn More