Reaching Remarkable Heights in Emergency Care
If you are experiencing a critical or life-threatening medical emergency, please call 9-1-1.
Nationally recognized for our exceptional emergency care and quality performance, Valley has long operated one of the busiest Emergency departments on the West Coast. Welcoming more than 75,000 patients through our doors each year, VMC's 45,000 square foot Emergency Services South Tower takes patient care to the next level. Valley Medical Center's 45,000 sq. ft. Emergency Department was designed for the best patient experience possible:
All private rooms—Fully enclosed private treatment rooms offer patients and their families greater comfort and lessen potential exposure to infection. All 55 private treatment rooms are furnished with a TV and phone for patient use.
State-of-the-art technology— Portable equipment brings basic X-ray to the patient's room. From the iCT scanner in the department to bedside barcoding, we keep care close for your comfort and swift diagnosis.
Easy, free parking—Two floors of free underground parking in the South Tower offer 300 spaces and direct, covered access to the Emergency Room.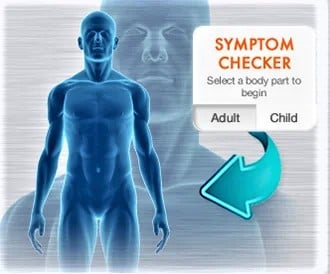 Symptom Checker
Symptom checker makes it easier to determine what to do when you develop medical symptoms. Symptom checker is available for both adults and children.

While it does not offer medical advice, symptom checker can help you understand potential causes, leading you through the decisions to make and the steps to take to feel better faster.

Mobile App
Available for the iPhone and Android smart phones.

Where to Park
The closest parking is in Parking G, located in the South Tower underground garage on 43rd Street, directly below the Emergency Department. Enter the garage from the east or west sides of the South Tower. Limited, temporary parking is available in front of the ED for patient drop-off if needed.
Parking is FREE for patients and guests.
Self-park/East: After the stop sign at the end of the overpass tunnel, continue on and take your first right. Follow the driveway past the 43rd Street South entrance to the east side of the building. Watch for the Parking G entrance and ramp down to underground garage on your left. It comes up quickly! See map.
Self-park/West: After the stop sign at the end of the overpass tunnel, continue on and drive past two driveways. The entrance to Parking G west underground parking will be on your right. Look for the lane marked "Entrance." See map.
A Healing Space
Decorated with soothing colors and bathed in natural light, our new emergency room creates a healing environment for the comfort of our patients and their families. Private treatment rooms replace curtains, emphasizing dignity and patient safety, while flatscreen TVs and telephones help families stay in touch and relax. The physicians, nurses and medical technicians in our emergency department work closely as a team to monitor and care for you. All are certified in advanced cardiac life support.
Personalized Treatment
When you arrive through our front door, you may be taken direct to a treatment room or to one of our four private triage rooms where we assess your condition and evaluate your needs. For your comfort and support, up to two family members may accompany you.
Trauma Center
Similar in look and feel to an operating room, VMC's ER contains two large resuscitation rooms, handling up to four patients and their trauma teams at once. As a Level III state-designated trauma center, VMC serves as back-up to Harborview in the event of a regional disaster.
Technology at the Bedside
VMC's emergency department brings care to the patient, with bedside registration, radiology exams, computerized physician order entry and cardiac monitoring equipment in every room.
State-of-the-Art Imaging
When seconds count, VMC's imaging systems can guide a cardiologist to a blockage near the heart, identify collapsed veins in a diabetic patient's foot, and locate even a tiny blood clot in the brain.
Disaster Recovery
The Emergency Services South Tower raises the Renton skyline—and elevates patient care and disaster preparedness for all of South King County. As South King County's first disaster recovery facility, the South Tower is well-equipped to handle flooding, hazardous spills, earthquakes, bio-terrorism and other disasters.
Emergency Response via Rapid-Access Helipad
VMC's ER has the only helipad in the greater Seattle area with direct helicopter-to-ER access via a dedicated trauma elevator. In addition, resuscitation rooms, surgery and critical care are also just steps away. VMC lies on a straight flight path just 5 minutes to Harborview, the state's only Level 1 trauma center.
Location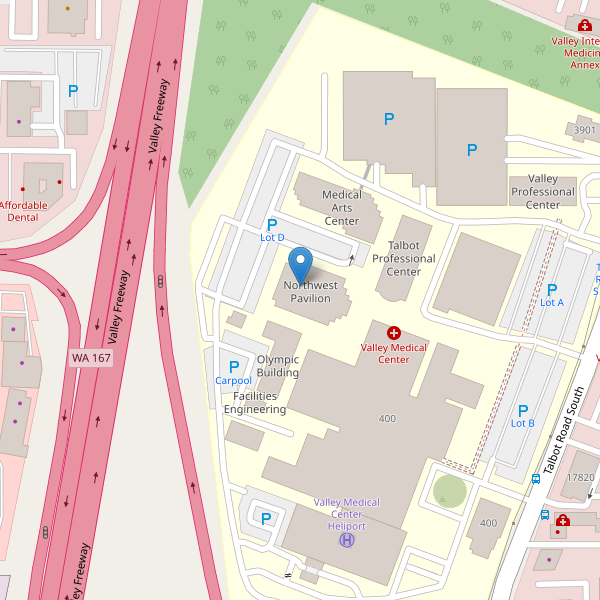 400 South 43rd St, South Tower 1st Floor
Renton, WA 98055
Get Directions
Call

425.690.1000