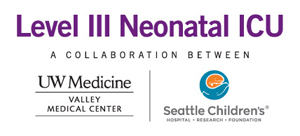 All parents look forward to healthy pregnancies and routine deliveries. But unexpected challenges or complications sometimes occur. Mothers-to-be and newborns whose needs require more advanced care no longer have to travel to Tacoma or downtown Seattle. Valley Medical Center's state-of-the-art Level III Neonatal Intensive Care Unit (NICU) provides special monitoring, treatment, technology (including ventilation), and staff for sick or premature infants.
The region's most highly-respected neonatal specialists from Seattle Children's and UW Medicine Neonatology provide comprehensive, around the clock care for infants in VMC's NICU. This tightly-coordinated team also practices developmental care, which research attributes to more positive outcomes in the sickest infants. Premature or fragile infants who require complex surgery may be transferred to a facility that offers a higher level of specialty care.
An Environment That Helps Families Bond
Valley Medical Center's NICU is designed so that families can room together with their infants.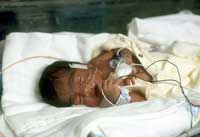 "We had excellent care and friendly nurses who gave us all the privacy we needed. If we had been in Seattle I would only have gotten to see them twice a week or so. But since they were at Valley, I could be with them two or three times a day."
— Parm Jeet Kaur, mother of twin babies born at Valley Medical Center
2 months early and weighing just 3 pounds each.
Evaluations & Therapy
Specially trained physical therapists, occupational therapists and speech language pathologists serve on our multidisciplinary team in the NICU to provide developmental evaluations and therapy to these fragile patients. Therapy staff is available Monday through Friday.
View more information about Childrens Therapy provided by Mary Bridge Children's Hospital.
Finding Comfort Through Connections
CaringBridge.org uses the power of the internet to bring patients, caregivers, family and friends together to share information and support during life-changing health events such as cancer, premature birth, critical illness and serious accidents. CaringBridge is free and is a meaningful way to help friends and family from around the world stay connected and informed. Patients and caregivers post journal entries about their healthcare journey and in return, family and friends provide vital support through guestbook messages and a photo gallery.
Create your own CaringBridge page today. It's quick, easy and free. Click here to get started.