Current State and Local Orders
See current orders for King County at kingcounty.gov.
Everyone, even people who are young and healthy, must help to slow the spread of COVID-19. You should:
Stay informed and in touch. Get updated information about local COVID-19 activity from public health officials.
Take everyday preventative actions

Wash hands frequently
Avoid touching your eyes, nose and mouth with unwashed hands
Wear a mask when you go out in public and stay at least 6 feet from others
Limit outings as much as possible

Information is also available in other languages
Preparation Plan for COVID-19
Get your household ready for COVID-19 with this checklist.
Help household members plan for possibility of outbreak in their community
Create emergency contact list
Personal health habits, preventive actions
COVID-19 Testing Locations in King County

Information about free COVID-19 testing, regardless of immigration or insurance status
Information available in other languages

Aid organizations in your community
US Department of Labor resources
Find resources related to COVID-19 and the workplace:
Workplace Safety: Helps employers and workers prepare for and respond to coronavirus.
Wages, Hours and Leave: Find the FAQ section on common issues affecting employers and workers as well as paid leave for workers.
Unemployment Insurance Flexibilities: Examples of when federal law allows states to pay benefits and how to file for unemployment insurance benefits.
Financial Resources for Washington Residents
Personal bank transactions recommended using online or mobile banking, phone banking, drive-thru or ATMs
Washington State's Employment Security Department providing services for unemployment help
Assistance on paying your credit card, mortgage or rent
Paying utilities
Information also available in Spanish
Washington State Coronavirus Response
A variety of resources for Washington residents:
Information for families, employers and workers
Multilingual resources
Food Assistance
Many schools are offering meals to children during school closures and any child aged 18 or younger can receive meals free of charge
Pregnant women, new mothers and children under the age of 5
Older adults
People without shelter or have low incomes
Mental and Emotional Well-being
We've compiled an extensive list of resources for your well-being, including:
Contacts for crisis support
Stress and self care
Resources for mental health for children, families, veterans, LGBTQ+ and families, health care workers
Social Distancing
See the CDC's guide on social distancing.
Tips for social distancing
How to protect yourself and the most vulnerable
Cleaning and disinfecting your home
Social distancing-approved activities:
Basic guidelines for what to do in public spaces to prevent exposure
Some ideas: take a virtual museum tour, be in nature, secluded run, get takeout, meditate, board games
Stay Connected during COVID-19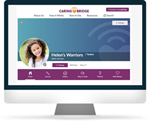 Get CaringBridge, a secure online health journal.
Free to the VMC community
Your choice: public or by invitation
Designed with medical crises in mind
to help patients stay connected and heal