How Cliff McGrath Got Back in the Game
After 40-plus years of playing and coaching soccer, U.S. Soccer Hall of Fame member Cliff McCrath had resigned to what he calls a life of "pain, pills and procrastination."
Then he met Dr. Barrett, Medical Director of The Joint Center at Valley Medical Center. Cliff's X-rays showed there was no cartilage left - his knees were bone on bone. He was a perfect candidate for bilateral knee replacement.
Today Cliff lives life free of pain. He retired ranked second on the all-time collegiate coaching wins list with 597 wins.

Set a Goal and Keep Moving Toward It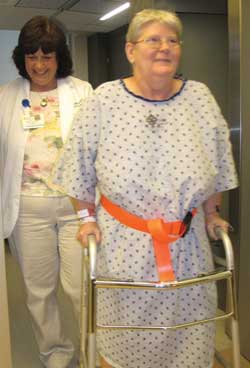 The morning after surgery,Margaret walks the hallway.
Margaret, a former Boeing manager and drafter, spent years behind the computer creating the schematics for electronic airplane components. What she didn't expect after her retirement was the collapse of some of her knee components from osteoarthritis, causing pain, limiting mobility and her plans for post-retirement travel.
While Margaret and her husband George began planning a six month trip to navigate the perimeter of the United States in their RV, she realized she wouldn't be able to make the trip if she couldn't climb in and out of their home-on-wheels. That's when Margaret set her sights on getting her knee fixed and healed in time to make their dream trip happen. Her daughter's due date happened to fall within the trip timeline, so Margaret had even more incentive to be able to travel to Nevada in time to welcome her new grandchild into the family. "It was nice to have something to be working toward," says Margaret.
Just one month after her partial knee replacement surgery, Margaret regained full flexibility in her knee, could walk independently and regained strength to climb a small flight of stairs, mastering even the steep RV stairs. She and George went on their nationwide dream excursion around the country and spent several weeks getting to know their new grandson.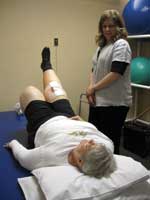 One week after surgery, Margaret is in physical therapy and working on strength.
Margaret's Tips for an Excellent Outcome
Watch the joint replacement pre-op video. The presentation, materials and staff prepared me well. I knew just what to expect and what was expected of me.
Before surgery, keep up with some low impact exercise to maintain strength going into the procedure. I did water aerobics.
After surgery is scheduled, start getting ready for recovery at home. Prepare some meals for the freezer. Adjust your furniture so that you have plenty of room to walk with a walker. Remove loose rugs.
For the first week or so after surgery, have your caregiver check on you every half hour. Sometimes you need help grabbing something, getting up and down or an ice pack. Have plenty of water bottles stashed around the house within easy reach.
George recommends always keeping the ice packs cold and to give plenty of encouragement.
Have distractions—books, TV and movies, friends visiting are all helpful.
Get into a routine of getting up and getting dressed so you don't feel sick and you feel more like moving around.
For the first weeks, schedule your pain medication dosages about 45 minutes in advance of doing at-home exercise and physical therapy.
Keep moving, keep flexible. Walk around the house at least once an hour.
Be encouraged by your daily and weekly progress!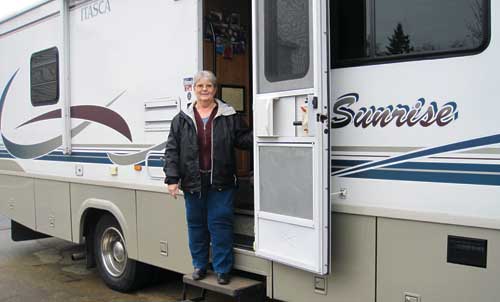 One month after surgery, Margaret ascended the RV stairs. Next goal? Keep getting stronger!
"With My New Knee, I Feel Like I've Gotten My Life Back!"
"I knew my knee wasn't going to hold up much longer," says Cathy, remembering the pain she endured for several years while trying to participate in the outings she enjoyed most. "There's not much I don't like to do, but hiking, skiing and golf take up most of my free time." The change from being an active person to one severely limited in activity due to pain was a gradual one.
To keep on doing what she loved, Cathy knew she needed help."The first place I heard about Valley was from a guy I met on a chairlift at Crystal Mountain. He had his knee replaced by Dr. Barrett and highly recommended Valley. When you strike up conversations with people out of the blue, I think people will be honest with you about recommending or steering you away from certain places. All of a sudden, I kept meeting people randomly and when we would get to talking, they would recommend Valley Medical Center as the place to go for replacement surgery."
"When I went in to see Dr. Barrett, I thought both knees were bad. Actually, I found out at my exam, that the pain in my right knee was caused by the added pressure of overcompensating for my bad left knee. The right knee is still in pretty good shape and feels great now that I've got my left one replaced."
"And now, my secret is to keep exercising. That new joint loves to be moved—the more I move, the better it feels. My husband has his hiking and skiing buddy back. And now that I don't have pain, I feel like I've gotten my life back," says Cathy.
Four Joint Replacements, Always an Athlete
David, a lifelong athlete, has had four joint replacements at Valley—two knees, a hip and a shoulder. He's getting back into shape again now that he's able to be active and pain-free.
Learn More About Joint Replacement