Founded in 2000, The Joint Center was the first dedicated joint replacement center in the Pacific Northwest with more than 20,000 hip, knee and shoulder replacement surgeries. Held as an acclaimed model for best practices, The Joint Center is led by nationally recognized surgeons in joint procedures, robotic joint replacement, implant design and research, in partnership with VMC's team of specialized joint replacement nurses and therapists.
Orthopedic surgeons and specialists treat muscle or tendon strains and sprains, bone fractures, arthritis, joint replacement and other joint and spine conditions:
Knee replacement
Hip replacement
Shoulder replacement
Spine
Shoulder & elbow
Hand & wrist
Foot & ankle
These doctors coordinate your care with other physicians, including family practice, internal medicine, general surgeons, radiologists, and other subspecialties for comprehensive coverage.
A Top-Rated Program
A top-rated joint replacement center, Valley Medical Center has created a program led by Medical Director, William Barrett, orthopedic surgeon, that our patients and community are proud to call theirs. Valley took a giant leap forward with the introduction of robotic total knee replacement offering faster recovery and superior precision allowing the surgical team to more accurately visualize and predict joint stability for the patient's natural frame with the ultimate goal of providing the best fit possible for enhanced patient outcomes. Valley's surgical team offers less invasive joint replacement, including anterior approach to hip replacement.
Blog articles about joint replacement:
'It all felt better after I had it done'
David, a lifelong athlete, has had four joint replacements at Valley—two knees, a hip and a shoulder. He's getting back into shape again now that he's able to be active and pain-free.
Hear his story.
Service Location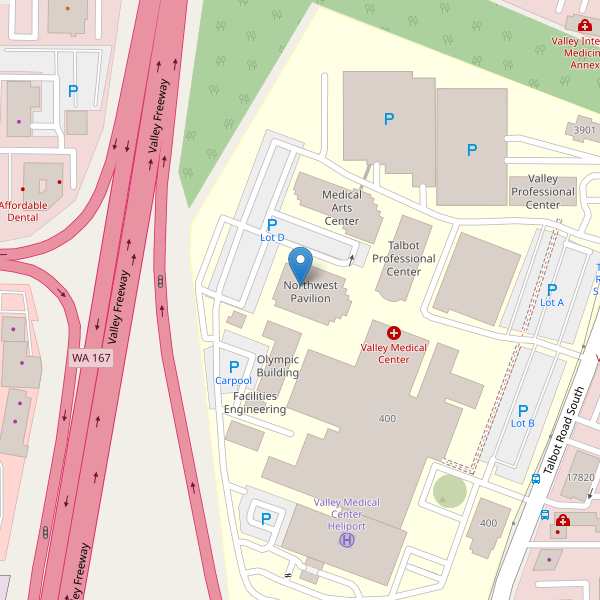 Main Hospital, South Tower 7th Floor
400 South 43rd Street
Renton, WA 98055
Get Directions
Call

425.228.3450