Outpatient Therapy Services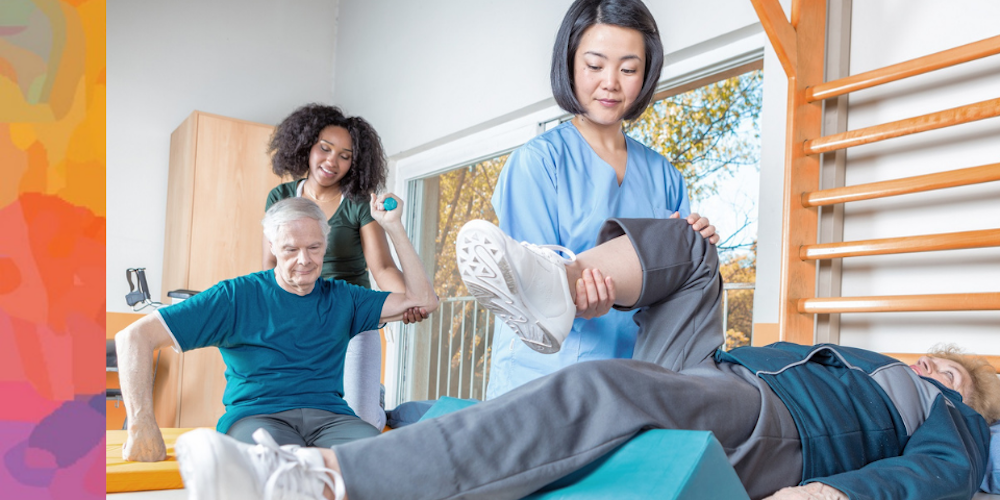 Comprehensive Oupatient Therapy Services
Valley Medical Center's Outpatient Therapy Services teams of dedicated physicians and therapists provide patient-centered therapy for adults and children who have disabling conditions and diseases—stroke, arthritis, carpal tunnel syndrome, developmental delay, neuromuscular injuries, orthopedic injuries, work injuries, sports and recreation injuries, and speech and language problems, to name just a few.
Our services include occupational therapy and physical therapy, speech and language pathology, hand therapy, pelvic floor therapy and rehabilitation medicine. See Valley's list of comprehensive therapy services.
Types of Therapies Offered
The Hand Therapy Clinic provides comprehensive and coordinated programs for patients with any type of hand or upper extremity injury such as fractures, tendonitis/overuse injuries, arthritis, nerve compression/carpal tunnel syndrome, tendon repairs, trigger finger, Dupuytren's disease and amputations. Occupational and physical therapists work with patients to regain strength, sensation, range of motion and dexterity to help maximize the ability to carry out daily life activities. Patients play an integral role in goal-setting.

Physicians and surgeons refer patients to the Hand Therapy Clinic for a broad range of evaluations and therapeutic treatment programs:
Self-care, work and leisure assessments
BTE-Quest work simulation
Return-to-work activities
Adaptive equipment needs
Range of motion and joint mobilization
Wound and scar management
Muscle re-education
Upper extremity strengthening
Splinting
Arthritis education
Work simplification
Sensory re-education
Treatment—fluid therapy, paraffin baths, electrical stimulation, hot and cold packs and ultrasound
We are Valley Blog: A Helping Hand for Your Hands -- Meet Valley's Hand Therapy Team
Lymphedema is a build up of protein-rich fluid in a body part caused by damage to the lymphatic system. If lymph nodes are damaged, they cannot drain well causing fluid to build up and swelling to occur in the head, neck, trunk, breast, genitals, arms or legs. Once you have lymphedema, it does not go away but it can be managed and we are here to help. Learn more about managing lymphedema after breast cancer surgery.
Signs and Symptoms:
Heaviness
Puffiness
Swelling
Stiffness
Clothing or jewelry that used to fit now feels tight

Causes:
Surgery -- especially in areas with many lymph nodes and vessels
Trauma
Radiation
Chronic venous insufficiency
Heredity
NOTE: Because there are other kinds of swelling problems that are not lymphedema, your physician needs to diagnose the condition.
Treatment
If you are diagnosed with lymphedema, our therapy services team at Valley Medical Center can help you manage the condition. An internationally recognized approach, called Complex Decongestive Therapy, is used to control the swelling and consists of:
Manual lymph drainage to stimulate and redirect lymph flow through specialized massage
Compression with bandaging, garments, and occasionally pumps
Exercise to improve motion and strength and move fluid more efficiently
Skin care to maintain healthy tissue and prevent infection
Experienced therapists with specialized training, and national certification (LANA), provide individualized care. Education is very important to learn how to manage your lymphedema independently and confidently. We also encourage you to bring a family member or friend to your treatment sessions to learn how to assist you as needed.
To make an appointment, a referral from your healthcare provider is required. Talk about your needs with your provider and ask for a therapy referral.
We are Valley Blog: Achiness, Heaviness, Swelling from Lymphedema: Pay Attention to Signs of Fluid Imbalance in Your Body's Drain System
Occupational therapy (OT) promotes wellness and independence in all areas of self-care, work and leisure. Patient education and goal setting is an important part of all treatment.
Outpatient
Outpatient services include orthopedic, neurological and vocational rehabilitation.
Inpatient
Therapists help patients and their families with safe and independent discharge plans and offer training, education and home programs. Occupational therapists also evaluate and treat patients who have acute psychosocial issues.
Physical therapy helps patients maximize their level of function and promotes wellness through improved strength, flexibility, quality of movement and decreased pain. Our experienced team of therapists are dedicated to helping patients define the goals that are most important to each individual and create a plan to achieve those goals.
Outpatient
The following physical therapy services are offered on an outpatient basis:
Orthopedic and sports medicine
Neurological rehabilitation
Vestibular rehabilitation
Pelvic dysfunction
See Valley's list of comprehensive therapy services available at each location.

Inpatient
Inpatient physical therapy improves a patient's functional level and ensures a safe and timely discharge from the hospital. Inpatient physical therapy services include the following:
Acute orthopedic therapy for patients following joint replacement surgery, traumatic injury and other orthopedic surgery.
Acute rehabilitation therapy for stroke, neurological, and head injury patients focusing on mobility, strength and endurance for functional activities.
Acute general medicine therapy for oncology, arthritis, intensive care, and pre-rehab patients.
For more information or to schedule an appointment, please contact us at one of the locations listed below.
The Outpatient Vestibular Rehabilitation Program provides treatment for people with vertigo and vestibular (inner ear) disorders. The vestibular system, in addition to the senses of touch/position and vision, contributes to one's ability to maintain balance. If there is a problem in the inner ear, the brain cannot rely on information from the vestibular system to assist with balance. The result is dizziness or being off-balance. This can lead to limitations in daily activities, with the avoidance of simple movements such as looking up, bending over or turning.
The goals of Vestibular Rehabilitation are to reduce or eliminate vertigo and dizziness, improve balance and walking, reduce sensitivity to visual stimulation and motion, and a return to normal activities. View video
Vestibular Rehabilitation can benefit patients with the following conditions:
Benign paroxysmal positional vertigo (BPPV)
Neuritis or labyrinthitis
Vestibular hypofunction/vestibulopathy (unilateral or bilateral)
Chronic Meniere's disease
Pre-/Post-surgical acoustic neuroma (i.e. vestibular schwannoma) resection
Ototoxicity
Age-related vestibular degeneration
Post-concussion syndrome
Migraine-associated vertigo
Cervicogenic dizziness
Evaluation and treatment are provided by physical therapists who have achieved competency certification in Vestibular Rehabilitation through Emory University (i.e. Herdman certification).
The evaluation process may include assessment of eye motions using video Frenzel goggles and assessment on the Balance Master computerized balance system.
A referral from a physician or approved healthcare provider is required for vestibular therapy evaluation and treatment.
Additional Resources: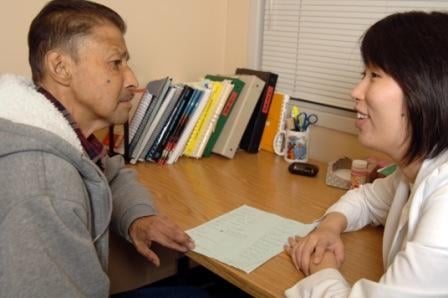 Speech and language pathologists work together with a multidisciplinary team of healthcare professionals to evaluate and treat patients with various communication, cognitive, and swallowing disorders in both inpatient and outpatient settings. voice therapy, language skills, memory, and cognitive retraining, articulation and swallowing therapy are offered.
What is pelvic floor physical therapy and why is it important?
Pelvic floor physical therapists have advanced training and focus on restoring function by improving muscular support around the pelvis, normalizing muscle tone, improving behavioral/dietary habits, and re-training body movements to allow for optimal function. Please know pelvic floor issues are common and help is available.
What patients are served by the pelvic floor physical therapy program?
Our team treats all people who are at least 18 years old.

Which conditions are treated?
Prenatal and postpartum

Diastasis recti
Sacroiliac joint dysfunctions
Post-caesarean pain
Post-episiotomy pain
Pubic symphysis diastasis

Pelvic floor dysfunction

Constipation
Coccyx dysfunction
Interstitial cystitis
Pelvic organ prolapse
Overactive bladder
Post-surgical
Incontinence

Stress incontinence
Urge incontinence
Mixed incontinence
Fecal incontinence
Post-prostatectomy incontinence

Pelvic pain and pain with intercourse

Vulvodynia
Vaginismus
Vulvar vestibulitis
Pudendal neuralgia
Male chronic pelvic pain or prostatitis
Pelvic pain after cancer treatment

Other

Abdominal, hip and low back pain that is not improving with traditional physical therapy
What does treatment include?
Rehabilitation for the pelvic floor is more than just strengthening the pelvic muscles. Physical therapists utilize manual therapy - including intravaginal and intrarectal muscle assessment and treatment, biofeedback, behavioral modification, and therapeutic exercise to improve patient function and quality of life.
To make an appointment:
A referral from your healthcare provider is needed for treatment and payment by your insurance. Talk about your concerns with your provider and ask for a therapy referral. Pelvic Floor physical therapy is part of the Lifestyle Medicine department on the third floor of the Medical Arts Center. To schedule an appointment, contact us today.
Valley Medical Center Stroke Rehabilitation service is a multidisciplinary team of professionals who specialize in the assessment and treatment of stroke survivors. They allow patients to resume their everyday activities in the least restrictive environment possible and maximize their independence.
Our team includes the following professionals:
Physical Therapy helps a stroke survivor regain strength, range of motion, safe mobility and reduction of pain. The therapist will provide a home program and/or mobility aids to ensure patient safety at home.
Occupational Therapy helps a stroke survivor improve their self-care skills. This includes everything from feeding, bathing, dressing to higher level functional skills such as preparing simple meals and time management skills.
Speech-Language Pathology helps a stroke survivor improve their swallowing, cognitive and basic language skills. For patients with muscle paralysis to the face, mouth, or neck, eating can be unsafe and communication difficult. The Speech-Language Pathologist can assess the patient to make sure they can swallow safely.


Contact Us

For information about Rehabilitation Services contact 425-690-3650.


Stroke Club
Valley Medical Center is host to the most active Stroke Club in the Puget Sound region. Stroke survivors and caregivers are invited to attend to share their experiences, make supportive friends and learn new skills. The Stroke Club meets monthly at Valley Medical Center's Medical Arts Center. View the Stroke Club schedule with meeting dates and times and location information.




Contact Us

For information about stroke and stroke rehabilitation, call
Valley Medical Center's Stroke Services Clinic at 425-656-4266
Crutch Training 101
When using crutches, proper fit is extremely important in addition to the correct techniques for safely getting around on them based on if you must be nonweight-bearing, partial weight-bearing or weight-bearing as tolerated. This video demonstrates the correct way to fit crutches to your body; safely walk with crutches; sit down and stand up from a chair; and climb and descend stairs.

Classes & Events
Explore Classes & Events

Health Blog
Learn More

Make an appointment
Learn More