Founded in 2000, The Joint Center was the first dedicated joint replacement center in the Pacific Northwest with more than 20,000 hip, knee and shoulder replacement surgeries. Held as an acclaimed model for best practices, The Joint Center is led by nationally recognized surgeons in joint procedures, robotic joint replacement, implant design and research, in partnership with VMC's team of specialized joint replacement nurses and therapists.
Orthopedic surgeons and specialists treat muscle or tendon strains and sprains, bone fractures, arthritis, joint replacement and other joint and spine conditions:
Knee replacement
Hip replacement
Shoulder replacement
Spine
Shoulder & elbow
Hand & wrist
Foot & ankle
These doctors coordinate your care with other physicians, including family practice, internal medicine, general surgeons, radiologists, and other subspecialties for comprehensive coverage.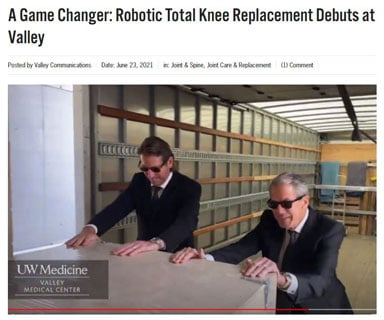 Traditional total joint replacement surgery is one of the most reliable and cost-effective surgical procedures in modern medicine. It has improved dramatically over the years, with smaller incisions, reduced recovery time and better outcomes.
In 2021, Valley gained the distinction of being the first hospital in the U.S. to install the VELYS Robotic-Assisted Solution, an innovative, new tool for surgeons performing total knee replacement. William Barrett, MD, Orthopedic Surgeon and Medical Director of Valley's Joint Center explains, "Over 20 years ago we started Washington's first Joint Center right here at Valley with the goal of improving care for patients who need total joint replacement. This is an exciting next step in that journey to innovate care even further."
VELYS is particularly advanced in its ability to help surgeons precisely plan surgery tailored to each patient's unique anatomy. It allows the surgical team to more accurately visualize and predict joint stability for the patient's natural frame with the ultimate goal of providing the best fit possible for enhanced patient outcomes. Learn about this exciting, game changing technology today. Watch as Joint Center Medical Director, William Barrett, MD, takes time out on delivery day to unload the new "kneebot" and explain why it's such a game changer.


What Are the Advantages?
Although robotic knee replacement is not indicated for all patients, there are many benefits that positively impact patients where it is indicated: better accuracy, excellent alignment of implant, more efficient care and strong outcomes. Learn about Dr. Barrett's initial experiences after the first few months of robotic knee replacement at Valley.
Based on your health history and individual needs, your surgeon talked with you about a plan to go home either on the day of surgery or after an overnight stay. For those going home on the day of surgery, you are able to head home once you have been cleared by physical therapy and are medically stable. This is typically a few hours after surgery. Those staying overnight are usually ready to head home after breakfast.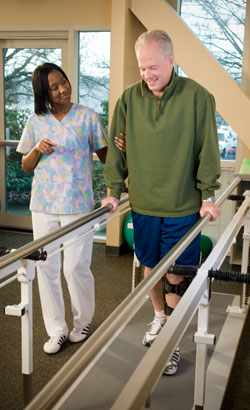 Discharge Planning
The discharge planning process actually begins before your surgery. Plan to have someone drive you home after surgery and to your first few appointments after surgery. You will need help for your first 5 – 7 days at home. Before your surgery, arrange for help at home or a place to stay. Your nurse will give you written instructions on how to care for yourself at home and will answer any questions. Some patients may need care care in a skilled nursing facility before going home. If you need to be cared for in a skilled nursing facility before going home, Medicare's website can help you find one*:
Research and compare Medicaid and Medicare-certified skilled nursing facilities
* The facilities listed on Medicare.gov are neither owned nor operated by Valley Medical Center. We advise that you carefully research before selecting a facility.
Outpatient Therapy Services
Valley Medical Center provides outpatient therapy services when you need it, including physical therapy and occupational therapy. Learn more about Outpatient Therapy Services.
Before replacement surgery, you will need to watch this online, pre-surgery seminar. This 30-minute video provides the education and information needed for a smooth transition from surgery to home.
Topics include tips on how to get your home ready for your arrival after surgery, preparing for time at the hospital, what to expect afterward and what you need to plan for when you go home. Family members or other caregivers helping you are encouraged to watch the video as well.
A Top-Rated Program
A top-rated joint replacement center, Valley Medical Center has created a program led by Medical Director, William Barrett, orthopedic surgeon, that our patients and community are proud to call theirs. Valley took a giant leap forward with the introduction of robotic total knee replacement offering faster recovery and superior precision allowing the surgical team to more accurately visualize and predict joint stability for the patient's natural frame with the ultimate goal of providing the best fit possible for enhanced patient outcomes. Valley's surgical team offers less invasive joint replacement, including anterior approach to hip replacement.
Blog articles about joint replacement:
'It all felt better after I had it done'
David, a lifelong athlete, has had four joint replacements at Valley—two knees, a hip and a shoulder. He's getting back into shape again now that he's able to be active and pain-free.
Hear his story.
Service Location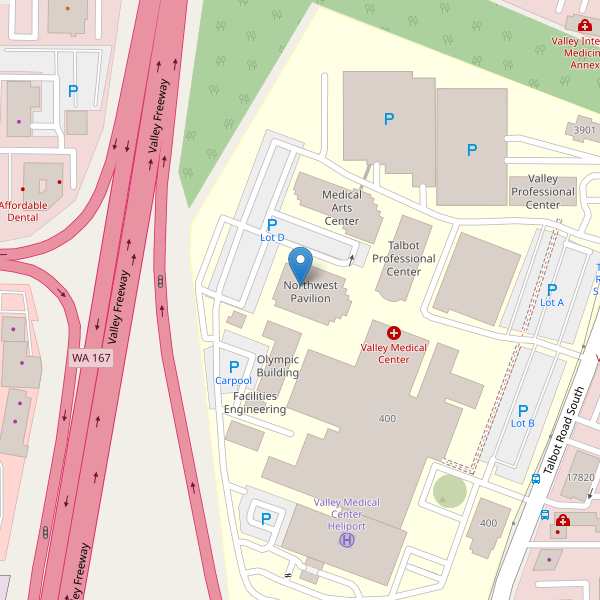 Main Hospital, South Tower 7th Floor
400 South 43rd Street
Renton, WA 98055
Get Directions
Call

425.228.3450