Trauma Nurses Talk Tough
NOTE: Trauma Nurses Talk Tough is currently on hold due to COVID-19 constraints.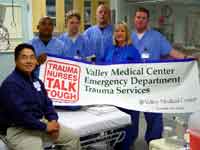 Valley Medical Center's ER staff visit area schools and community groups with a stern message. Their presentations let impressionable audiences know there's a strong link between unsafe practices—such as drinking and driving—and accidents. In fact, trauma nurses want to change how we think about the word "accident." They'd like us to understand that by practicing safe habits we can dramatically reduce the number of accidents that occur.
As Kim Young, RN, describes, "often by the time someone reaches the Emergency Department there isn't a lot we can do to help. By letting people know some of the behaviors that put patients in the hospital, we may be able to keep them from coming here in the first place."
Watch the Trauma Nurses Talk Tough video to learn more about this program.
*Disclaimer: This video features actual events and contains graphic images. Viewer discretion is advised.
The TNTT team makes presentations in the spring and fall. If you would like to schedule a presentation for your school or group please call Trauma Services at 425.228.3440 x3335 to make arrangements.
Letters from Kentwood High School
Thank you for taking the time to visit my class at Kentwood, I can tell it had a lot of impact on the class. I can assure you, you won't catch me without my seatbelt or helmet (you wouldn't have before, but now I'm scared to death of what might happen). It was kind of interesting to hear what kind of injuries you end up with in the ER. You have a lot of bravery to bite the bullet and take care of that kind of stuff!
—KS
Thank you for visiting Kentwood High School. Your presentation really opened my eyes to what can really happen to me if I make the wrong decision. Miss Johnson always says that life is about choices and you really emphasized that in your presentation. Hearing that from someone other than Miss Johnson finally made me realize that my parents are not always going to be there to tell me not to do something. Thanks for opening my mind to a whole new side of safety.
—LP
Thank you very much for coming into my health class on October 4. I was able to find some of the information that you provided as helpful. I also think that some of the pictures really made a difference to people, to actually see what some consequences can be of poor decisions. Well, thank you very much for coming and speaking with my class. I was glad you were able to come in and present an awesome presentation.
—MO
I wanted to say thank you for coming to Kentwood and being a guest speaker in my class. I learned a lot from the presentations, and the thing that mostly caught my attention was the wearing of helmets. I usually don't wear helmets when I ride my bike, but after you showed us what could happen, even at slow speeds, I will probably change my habits. I've been lucky so far with no injuries from cars, but I will start to wear mine more to ensure that nothing serious happens. Also, I saw the worst things that can happen when being in the car with a drunk driver, and I would never want any of that to happen to my friends or me. I've already made that decision to never get into a car or in a situation that involves alcohol and driving.
—RM
Thank you for coming in to class to speak to us on Monday. I really did appreciate the information. Not only did it make me more aware of things I need to watch out for in life, but it gave me information about my future job. I saw a similar type of presentation last year in ninth grade, and it made me want to enter into the medical profession. I have really considered it, and seeing all three of you up there talking about blood and guts like you would a football game or something really did impress me.

I confess I was feeling queasy and had to keep my head down for some of the shots, but I still felt a desire to know more about helping people in that way. Honestly, you probably weren't expecting many letters and to be blunt, I am doing this for class credit, but I really wanted to let you know that the presentation impacted me. So thanks for showing us what we didn't want to see but needed to.
—MS