Pharmacy Services & Locations
In addition to 24-hour pharmacy services for hospital patients, Valley offers the convenience of two retail pharmacies. Prescription Pad North, in the Valley Professional Center building on the north end of campus, is open weekdays and features a drive-up window. Prescription Pad South, next to the Emergency Department, is open daily.
Prescription Pad Pharmacies
Two Prescription Pad Pharmacy locations offer complete retail services to the community. Friendly, knowledgeable pharmacy staff are dedicated to processing your prescriptions quickly and accurately. Both Prescription Pad Pharmacies offer prescripton fills and refills, herbal supplements, medical supplies and over-the-counter remedies.
Prescription Pad North, located in Valley Professional Center North, offers convenient drive-up service.
Prescription Pad South, located adjacent to the Emergency Department in the lobby of the hospital's South Tower offers convenient late night, weekend and holiday hours.
Inpatient Pharmacy
Inpatient pharmacy serves hospital inpatients 24 hours a day, 7 days a week. Hospital-based pharmacists help select and monitor drug therapy for admitted patients, Emergency Department and Valley Family Medicine Residency clinic patients.
Anticoagulation Clinic
Anticoagulation Clinic pharmacists provide regular blood testing, analysis, treatment, and education to patients using anticoagulation medicines such as Coumadin, Lovenox and Arixtra.
Specialty Pharmacy Services
Specialty pharmacies differ from traditional retail pharmacies in multiple aspects ranging from patient care and disease management to monitoring and adherence management. Our team understands that your medical needs may be complex and possesses the special knowledge required, so you can get the personalized care you need at no additional cost. Learn more about the services and helpful resources provided by our Specialty Pharmacy.
Pharmacy Practice Residency Program
Learn about Valley's postgraduate training program.
Service Locations
Valley Professional Center North
3915 Talbot Road S, Suite 201
Renton, WA 98055
Get Directions
Call

425.690.3551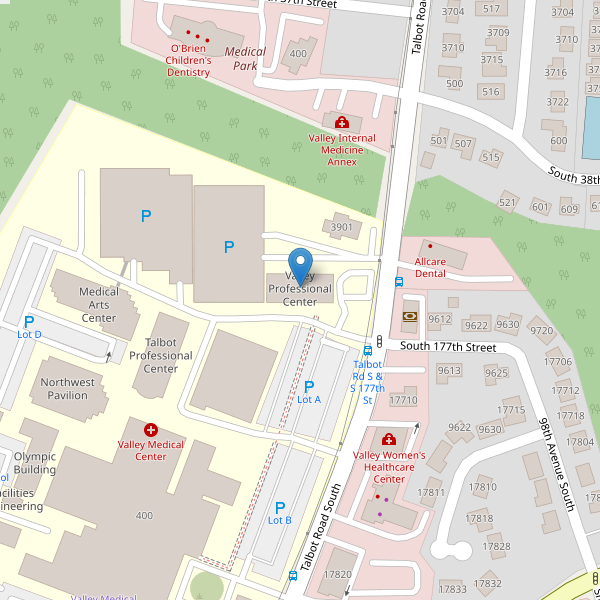 Main Hospital, South Tower Lobby
400 S. 43rd Street
Renton, WA 98055
Get Directions
Call

425.690.3552