Endocrine Surgery
Endocrine surgery focuses on the surgical care of diseases of the thyroid, parathyroid, and adrenal glands. Here at Valley, we are fortunate to have Nicole Zern, MD, as our endocrine surgeon, and she specializes in the care of patients with thyroid, parathyroid or adrenal disease. In addition to her specialized fellowship training in endocrine surgery, she is a board-certified general surgeon and a Fellow of the American College of Surgeons.
To schedule an appointment with Dr. Zern or to learn more, go to General and Specialty Surgery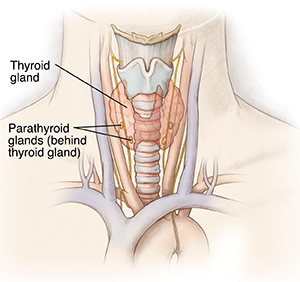 Endocrine conditions that may require surgery include:
Adrenal adenoma (nodules and tumors)
Adrenocortical carcinoma (cancer)
Adrenal Cushing's Syndrome
Hyperaldosteronism
Pheochromocytoma
Parathyroid adenoma (nodules and tumors)
Parathyroid carcinoma (cancer)
Parathyroid hyperplasia
Hyperparathyroidism
Thyroid adenoma (nodules and tumors)
Thyroid carcinoma (cancer)
Hyperthyroidism
Graves' disease
Goiter
Hashimoto's disease
Multiple endocrine neoplasia syndrome
Dr. Zern performs operations including thyroidectomy, parathyroidectomy, and adrenal surgery. She will evaluate patients in a clinic appointment, including the initial workup of these issues and a thyroid biopsy (or fine needle aspiration), if needed. She will also work closely with primary care providers and endocrinologists to diagnose patients with endocrine surgical issues and coordinate their follow-up care after surgery. She makes sure every patient understands their diagnosis and treatment options, including surgery when appropriate.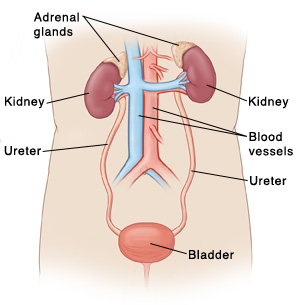 Thyroid and parathyroid surgery are performed through a small incision in the center of the neck. These are done under a general anesthetic but can often still be outpatient procedures, and patients may go home the same day after the operation. During parathyroid surgery, we check the parathyroid hormone level to make sure that we have fixed the problem before the procedure is over.
Adrenal surgery is also done under general anesthesia and is usually minimally invasive with the use of either laparoscopy or robotic surgery. Most stay overnight in the hospital. Dr. Zern will give you detailed instructions for your care at home after the surgery and follow-up appointments.


Learn more about Dr. Zern including her provider video
Flyer for patients referred to Dr. Zern for endocrine surgery consultation
DocTalk: When Surgery is Needed for Thyroid, Adrenal, or Parathyroid Conditions
The endocrine system is a complex network of glands and organs. It uses hormones to control and coordinate your body's metabolism, energy level, reproduction, growth, development, and responses to injury, stress and environmental factors. When issues arise within the endocrine system, surgery is sometimes the best treatment option. Endocrine surgeon Nicole Zern, MD, explains the conditions she helps treat, the minimally-invasive techniques she uses, and what to do if you think you may have a hormone problem or endocrine condition that needs attention.