Leave a Legacy at Valley
Although a gift of cash is the most common way of donating, estate planning is an excellent way to leave a legacy by supporting the charitable causes you believe in, like Valley Medical Center, while sheltering your estate from some tax burden. Click the image below to view the Notification of Planned Giving Document.
Planned giving methods include:
Living Trust gifts take effect during your lifetime with possible savings in estate taxes if a charity is the beneficiary. Terms of the trust can be changed at any time.
Bequests are gifts made by naming a charity in your will. They benefit your estate tax obligation while allowing the flexibility to provide for family needs.
Life Insurance Gifts allow a charity to be named as the owner or beneficiary of a policy. The donor could receive immediate income tax deductions and possible estate tax savings depending on the gift resulting in a significant donation with little expenditure.
Real Estate Gifts are a donation of real property either in full or with a retained life estate. There are immediate income tax and capital gains tax advantages. It can allow you to live in your home and still receive charitable deductions.
Charitable Remainder Trusts pay income to you or those you name before a charity receives the remainder. There are possible income and estate tax savings and no capital gains tax.
Valley Medical Center can be named as a beneficiary in an individual's estate plan and/or will. The hospital always encourages potential donors to seek the advice of an attorney, certified public accountant, or other professional you trust to help shape your planned gifts. If requested, Valley can assist you with finding such a professional that meets your personal needs.
Questions? Please contact Carrie Murayama, Manager of
Development and Volunteer Services, or call 425.690.5956.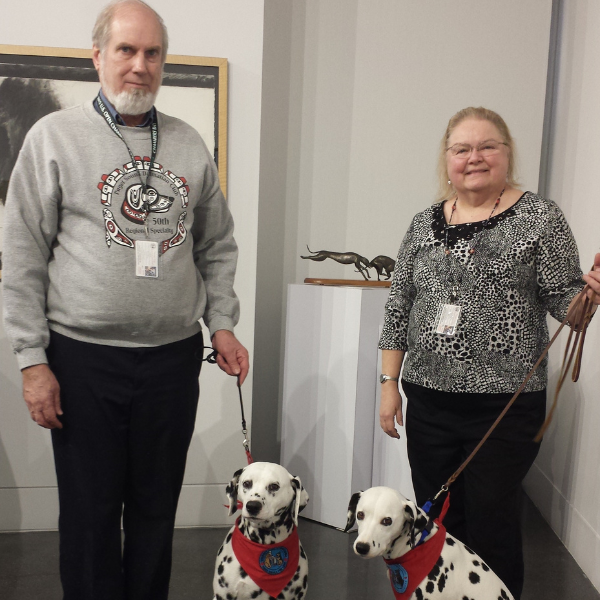 First Patients, Then Volunteers, Now Legacy Gift Donors
"Valley has made our lives better," says Terry Wissinger. "We're part of the Valley family." After retirement in 2016, he and his wife Karen became Valley patients, pleased with the atmosphere, responsive staff and medical technology. Soon the Wissingers were among the first to volunteer for Valley's new therapy dog program with Clover and Ellie, offering patients and staff stress-relief unique to canine caregiving.
Believers in paying it forward, they will support Valley into the future with a legacy gift. "It's difficult for a community hospital to find funding for special things beyond day-to-day operations. With our gift, we're hoping to provide some extra comforts," says Karen.