History of Valley Medical Center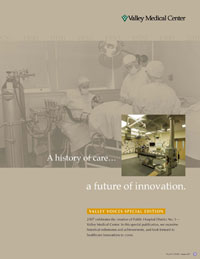 April 15, 1945—It was a time of international, national and local uncertainty. World War II was coming to a close. Isolationism failed and gas prices were rising. However, in the small town of Renton, Washington, The Renton Hospital was being dedicated despite its own shaky beginnings.
The idea of a brand new, 100-bed facility was spurred in 1942 by the growing number of residents in Renton and the inability of Bronson Memorial Hospital to care for their needs. Recognizing this, the city of Renton applied to the U.S. Public Building Administration and received approval to begin construction on Rainier Avenue. However, nearing completion, it was discovered that Renton was a third-class city and didn't qualify to operate a hospital under Washington law.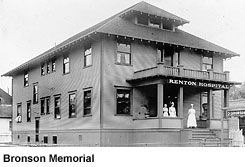 As a solution, nine local citizens formed The Valley Foundation, Inc., a nonprofit organization that paid $1 a year to lease the facility. The Federal Works Administration contributed $74,014 for operating expenses.
As military personnel drifted home after the war, the Federal Works Administration began looking for a buyer for the hospital. Citizens voiced their concerns. They feared not being able to choose their own physicians while in the hospital and called this "contract medicine."
By 1947, a new statute allowed voters to form taxing districts and own and operate hospitals. This was the birth of Public Hospital District No. 1 of King County. The following year, voters approved $225,000 in general obligation bonds to buy the hospital for $200,000.
October 4, 1969—A new location, a new name, the same philosophy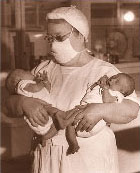 Renton Hospital was originally intended to be a temporary war facility. By 1965, the 20-year-old structure was failing. Consultant William E. Murray was hired to plan a new and modern hospital. Murray later became the first administrator of the new facility.
At this time, the hospital district expanded to include the Kent School District. Seven million dollars in general obligation bonds were authorized for financing, and world-renowned architect Edward Durell Stone agreed to do the design.
A new name was needed to reflect the new location and look of the hospital. In 1966, a contest was held to name the new hospital. The winner, VALLEY GENERAL HOSPITAL, was dedicated on October 4, 1969, at its current site.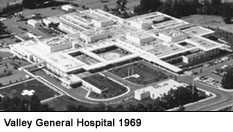 The hospital expanded, added on, and changed over the years. From 1977 to 1983, $23 million was spent adding on a new Emergency Treatment Center, Surgicenter and Children's wing. More beds were added and other departments expanded.
Expansion, renovation highlight innovative care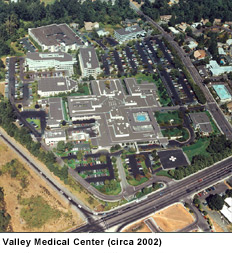 By the turn of the century, the population of South King County had skyrocketed. To meet the growing need for medical services, Valley Medical Center nearly doubled in size, with phased construction of:
2005: A complete Family Center, including a 36-suite Birth Center and Neonatal Intensive Care Unit
2007: First floor Surgery Center and new lobby entrance
2008: Completion of second floor surgery suites, totaling 17 for the Surgery Center
2010: Completion of a seven-story emergency and patient services tower, known as the South Tower, with Emergency Department, Critical Care Unit, Joint & Spine Center, and 2 patient bed floors. The Tower also serves as the primary Disaster Recovery facility for the region.
2013: Valley Medical Center was licensed to add 18 beds, bringing the total number of acute care beds to 321.
2020: Due to a change in license regulations, 20 existing NICU beds are now included in the hospital's total number of acute care beds, increasing the total bed count to 341.
The Birth Center puts comfort center stage. Families enjoy private, spacious birthing suites equipped with a bassinet for baby and sleeper sofa for a partner or support person, whirlpool tub and bedside digital entertainment system.
The upgrade to the front entrance of the hospital was the first since its original construction in 1969, creating a soothing, light-filled lobby featuring a 22-foot-high glassed-in atrium with nine pyramid skylights and a prominent water feature to promote relaxation. Adjacent to the lobby, the new, high-tech Surgery Center added 17 surgery suites (operating rooms) and pre- and post-operative facilities equipped with state-of-the-art technology and robotics.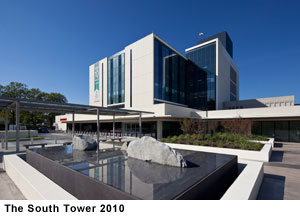 Valley Medical Center's plans to meet community safety and disaster needs well into the future centered around the creation of a new and expanded Emergency Department and Level III Trauma Center with CCU (critical care unit), underground parking, and three additional patient bed floors. The South Tower was financed with a $115 million tax-exempt bond, made possible following a 2005 voter-approved tax levy. The enlarged emergency room enables VMC to better handle major emergencies and potential disasters in South King County, including biological or pandemic outbreaks. The Joint & Spine Center occupies the 7th floor.
Alliance with UW Medicine brings additional healthcare services, aligns best practice models
Valley Medical Center and UW Medicine began exploring a strategic alliance in January 2011 with the mutual goals of increasing access to additional healthcare services for South King County residents, aligning best practice models, expanding clinical, teaching and research programs, as well as positioning both organizations for future healthcare reform opportunities. On July 1, 2011, Public Hospital District No. 1 of King County (dba Valley Medical Center) and UW Medicine formed a strategic alliance.