A Place Where Nurses Grow and Thrive
Teamwork, Respect, Innovation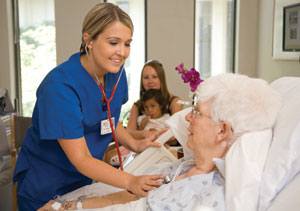 At Valley Medical Center, we are passionate about providing quality patient care and dedicated to a culture of collaboration and teamwork. We firmly believe we achieve positive outcomes through our commitment to an environment that encourages staff to grow and thrive.
We embrace cultural diversity; together our staff and patients represent every country around the globe and speak more than 80 different languages. And with 5 urgent-care clinics, more than two dozen primary and specialty care clinics, and the full-complement of hospital services, we offer the opportunity to explore many career paths in nursing, all while staying within the VMC family.
A Nurturing Nurse Residency Program
Valley's comprehensive residency program provides new nurses with an engaging environment, blending classroom instruction and hands-on clinical training. Our experienced educators serve as mentors and coaches, offering guidance and insight, knowledge and respect. A Place Where Nurses Grow and Thrive Long after residency concludes, educators continue to actively mentor nurses, helping them form relationships with their managers and succeed in the patient care environment. Valley's focus on creating a nurturing atmosphere fosters success, enabling resident nurses to move confidently into their first nursing position. Career Growth Opportunities Encourage Success Valley's Continuing Education Fund helps pay for required certification training for all full-time nursing staff. For those with the goal of earning their bachelor's degree or adding to their specialty certifications, Valley provides up to $5,200/yr in tuition assistance and up to $1,000/yr for certifications and licensure. Valley Medical Center nurse leaders provide vital support for their staff, actively encouraging them to learn new skills and technologies and take on new challenges, a key factor in VMC's success in staff retention and satisfaction.
High Tech Tools Complement High Touch Care
VMC is proud to offer a host of technologies that provide added resources to help enhance nursing practice. Some exciting technologies include:
Epic electronic medical record
Emergin Wireless Phone System seamlessly links caregivers with patient call system and telemetry alerts
Barcoding cross-check system for medication administration enhances patient safety
State-of-the-art smart IV pumps prevent free-flow
Washington's first 256-slice CT Scanner
Skylight provides interactive tools at the bedside, including patient educational videos, internet access, movies and entertainment
"Valley Medical Center was my top choice. No other program had a nurse residency program like Valley's, which provides excellent education and a solid transition period for new graduates. I received a great deal of support from my residency education managers as well as my coworkers and colleagues. Valley provides a nurturing environment for personal and professional growth."
–Viktor