History of Compassionate Care at VMC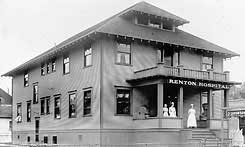 At the turn of the last Century, in 1906, South King County physicians Adolph Bronson & Owen Taylor introduced healing services to residents. As typical "horse and buggy" doctors of their day, Drs. Bronson and Taylor distinguished themselves by treating the whole person: mind, body and spirit. Taking their cue from Florence Nightingale, these healers built a reputation for listening to all their patients' concerns. In the small, ten bed hospital that Dr. Bronson founded in 1911, it was not unusual for even the two nurses to practice total healing.
When Valley General Hospital was established in April of 1945, the community clergy in Renton continued this compassionate approach to healing. A tradition that continues to this day.
By 1971, VMC had moved to the current Talbot Road location and added a Meditation Room on the third floor lobby, providing a quiet haven for people of all faiths and persuasions. The Hospital Chaplaincy Corps used the room as a counseling center for the troubled and bereaved, comforting patients and hospital personnel faced with difficult decisions under the pressure of their responsibilities. Thanks to continued, strong community support, VMC dedicated a non-denominational Chapel-Meditation room in April of 1982, recognizing and reaffirming a spiritual dimension to total patient care.
As another century turned over, the emotional and spiritual support needs of patients, family and staff grew more diverse and expanded in direct proportion to the number of homes and shopping areas in South King County. In 2001, VMC renovated the chapel to suit the community as a whole. The Prayer / Reflection Room moved beyond religious elements to reflect diverse spiritual and secular understandings. Soft and subtle in its design, the room reflects nature and serves as an interpretative healing space that welcomes people of all beliefs.
Today, VMC's Spiritual Care Services team offers warm, non-judgmental, open-hearted emotional and spiritual support for patients, families and staff members. Community support continues to play an important role at VMC and has helped strengthen our compassionate care.