Helping you get back to living your best life.
Cardiac Rehabilitation is designed to help you transition to healthy lifestyle changes. The program includes exercise training, education on heart-healthy living, and counseling to reduce stress and help you return to an active life. Cardiac rehab can improve your heart's health and quality of life, reduce the need for medicines to treat heart or chest pain, decrease the chance you will go back to a hospital or emergency room for a heart problem, prevent future heart problems, and even help you live longer. At Valley Medical Center our rehab nurses and exercise specialist work with each patient to closely monitor electrocardiogram tracings and blood pressures during exercise sessions.

Who would benefit from Cardiac Rehab?
Patients with a physician referral indicating:
recent heart attack
heart failure
coronary artery bypass surgery
angioplasty
stent placement
valve replacement surgery
peripheral vascular disease
stable angina or other heart problems
To regain peak physical function, you must exercise the most important muscle—your heart. There is no better way to do this than under the guidance of professionals at Valley Medical Center. With appropriate exercise and education, you can bolster your good health and well being. Through the program you will gradually progress from monitored therapy to a more independent program.

How do I get started?
You may begin Cardiac Rehab soon after being referred by a physician. After your referral has been reviewed by our staff and insurance coverage is determined, our staff will contact you to provide you benefit information about get you scheduled to our next Cardiac Rehab Orientation. Forms you will need to bring with you are a completed Health History Survey, Risk Factor Questionnaire.

What type of exercise will I do and how will I be monitored?
A variety of exercise equipment is available to enhance muscle conditioning including:
Treadmills
Airdyne bikes
Stationary bikes
Rowing machines
Arm bikes
Strength training equipment
Seated cardio trainers
Exercise levels will be based on your diagnosis and current level of fitness. Each activity is designed to gradually increase your heart rate to a prescribed training level. Blood pressure, heart rate and EKG are monitored by a registered nurse and exercise specialist during training sessions and assessments.

Cardiac Rehab health professionals include registered nurses with advanced knowledge in exercise therapy and cardiac care and exercise specialists with specific knowledge of cardiovascular training prescriptions for those with heart conditions. They help you establish exercise training levels and will send periodic reviews to your physician. Our Medical Director is a cardiologist who reviews all records prior to joining the program and provides ongoing consultation and direction. View guide to seated and gentle stretching exercises.

The initial program is 12 weeks (36 sessions). Sessions are scheduled 3 times per week.

Will I receive education about heart disease?
Yes, education covers a variety of topics including heart healthy nutrition, home exercise programs, stretching, cardiac risk factor modification, weight management and care of cardiac symptoms. Materials are presented during your exercise sessions. A nutrition class is offered monthly by a dietitian. You will also gain support from other cardiac patients who are moving toward similar goals.

Does insurance cover cardiac rehab?
Most insurance and Medicare plans cover the initial phase of Cardiac Rehab. It is advisable to contact your insurance provider to find out about coverage and applicable co-pays or coinsurance fees. Click here to know what questions you should ask your insurance provider before you start Cardiac Rehab.

How do I contact Cardiac Rehab?
The Cardiac Rehab Department is located on the third floor of the Medical Arts Center in Suite 320, just across the skybridge from the parking garage. The Cardiac Rehab program is offered Mondays, Wednesdays and Fridays, 9 AM – 6 PM. Exercise sessions are one hour each, three times a week by appointment. Call 425.690.3516 for an orientation appointment or more information.
For more details, click here.
Service Location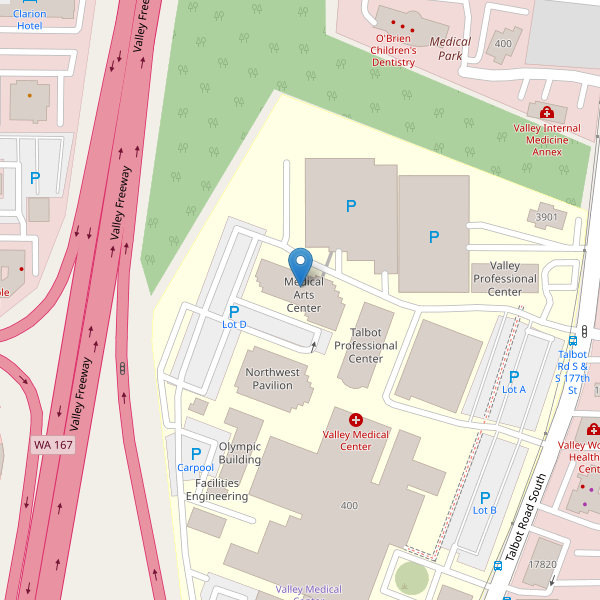 Medical Arts Center
4033 Talbot Rd. S, Suite 320
Renton, WA 98051
Get Directions
Call

425.690.3516
Fax

425.690.9516